Esso Bermuda has presented a cheque worth $30,000 to the Bermuda Diabetes Association, with the funds having been raised through Esso's "Help Us Help" promotion, whereby for every gallon of gas that was pumped at all Esso stations from November 16th, 2012 through to January 11th, 2013, 5¢ was donated to the Bermuda Diabetes Association.
Participating Esso stations were: Sandys, Port Royal, Warwick, B.I.U, Esso City 24/7, Collector's Hill, Crawl and St. George's. All proceeds raised will go to the Bermuda Diabetes Association in order to assist the organisation's daily operations as well as to aid in the support of the Diabetes Association's educational and outreach programmes.
L to R: Mark Fields, Michele Bean, Elliott Douglas, Gordy Gibbons, David Hills, Dr. Annabel Fountain, Debbie Jones, Jane Hope & Sara McKittrick: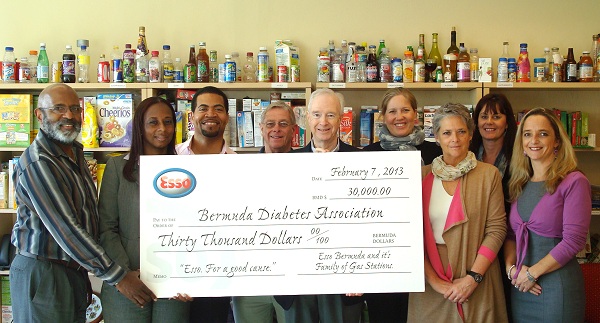 Diabetes is a condition that is considered to be at epidemic levels in Bermuda and around the world. According to recent statistics, as many as one in four Bermudians are living with or are at risk of diabetes. Diabetes occurs when high levels of sugar (glucose) are present in the blood because of the body's inability to regulate its production. Classic symptoms include frequent urination, increased thirst and unexplained weight loss. Over time, diabetes can lead to blindness, kidney failure, nerve damage, strokes and coronary heart disease.
Lead Country Manager of Esso Bermuda, Mark Fields commented "We are very pleased with the amount that we were able to raise. "Help Us Help" was a concerted effort between the local Esso Dealers, Customers and Esso Bermuda to support the Bermuda Diabetes Association. "
Mr. Fields continued, "It is our belief that during good and difficult economic times Esso Bermuda will always strive to assist the charities in Bermuda. We congratulate the Bermuda Diabetes Association on its' work achievements in educating the Bermudian people on life changing parameters that can assist in establishing a healthier way of life."
David Hills, Chairman of Bermuda Diabetes Association commented, "Diabetes is one of the biggest challenges on the island and raising awareness of this disease, including its symptoms and how to prevent it, is at the top of our Association's agenda.
"This very generous financial contribution from Esso Bermuda is greatly appreciated and will provide us with the opportunity to increase the educational programming, continue our collaboration opportunities with the Diabetes Centre with outreach programming, and meet our objectives in terms of understanding diabetes and increasing public knowledge of the disease".
Bermuda Hospitals Board Director of Endocrinology and Deputy Chairman of the Bermuda Diabetes Association, Dr. Annabel Fountain commented, "I would like to thank Esso for the tremendously generous donation and also particularly to thank them for the campaign to improve awareness of Diabetes in our community with the Esso to Esso Walk highlighting the importance of exercise and lifestyle management. We look forward to partnering with Esso again in the future in the hope that over time, we can reduce the impact that this disease is having on our island."
Sara McKittrick, Diabetes Educator, Bermuda Diabetes Association said, "We are very grateful to Esso Bermuda for providing such generous support. Any opportunity to be able to raise awareness in the community of the need to look after our health, particularly encouraging those with diabetes to take control of the disease, is very welcome. When the message is endorsed and inspired by the support of an organization like Esso Bermuda, the message becomes even stronger, and benefits our whole community".
Read More About