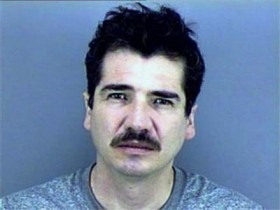 U.S. authorities have filed a document to seize over $2 million in a Bermuda bank account allegedly belonging to a fugitive Mexican official charged in a corruption case.
Hector Hernandez Javier Villarreal [pictured] — the former Secretary of Finance for Coahuila, Mexico — is suspected of forging state documents to obtain fraudulent loans totaling more than $220 million.
The court document said, "On October 28, 2011, a local judge from the State of Coahuila charged Villarreal with forging state documents to obtain fraudulent loans for several million pesos between 2008 and 2011.
"On October 29, 2011, Villarreal was arrested and released on bond. Villarreal fled to the United States after that and remains a fugitive from Mexico."
According to the court document, as of January 4, 2013, Villarreal had $2,275,544.41 on deposit in the Bermuda account.
The seizure is being done under the grounds of being "property that is derived from bribery of a public official, or the misappropriation, theft, or embezzlement of public funds by or for the benefit of a public official."
Hernandez allegedly stole the money from the state of Coahuila and deposited it into a Texas bank account before transferring the funds to the account in Bermuda, according to the forfeiture complaint filed in U.S. District Court.
This is not the first time the American authorities have filed suits to seize assets belonging to Villarreal. Among the bank accounts seized last year was a San Antonio, Texas bank account containing $700,000 and registered to Toyland LLC, a company controlled by Villarreal's wife, Maria Botello.
Last year U.S. federal prosecutors also filed lawsuits in San Antonio, Texas seeking forfeiture of the dozen properties in the region, including the a strip mall, multiple residences, CVS pharmacy, storage center, condo unit, carwash, gas station and more.
Last February questions were raised after Villarreal was arrested in Texas, and later released. He and his wife were pulled over for a traffic stop, and the Texas police found $67,000 in cash and a shotgun in the car. They were taken into custody, however they were released despite Villarreal being a wanted man at the time.
One day after ordering Villarreal's release, State Department officials referenced the Mexican warrant and asked for local authorities to re-arrest the couple. But by then, it was too late.
Fox News report on the release of Villarreal last year:
The full court document is below [PDF here]:
Read More About