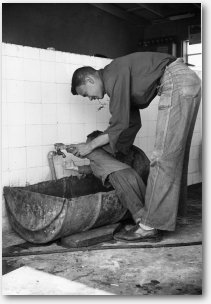 The Bermuda National Gallery celebrated his work in 2012 with a retrospective exhibition entitled "Witness To History" — as apt a description of Bermudian photojournalist Richard Saunders as any.
Mr. Saunders [1922-1987] contributed to publications such as "Ebony", "Life", "Look", "Fortune", " Ladies' Home Journal", "The New York Times" and "Paris Match" during the course of a 40-year career which took him around the world.
In an interview with Swiss magazine "Camera", Mr. Saunders — who was particularly renowned for his portrait work — said: "What matters to me are people and their feelings; above all it is the unconquerable dignity of man, of whatever colour, creed or persuasion that must come through in my photographs.
"Photography is communication; a photograph is nothing unless it is seen, and unless it conveys something of life to the viewer." [The candid photo here shows a little boy having his hands washed at the Collector's Hill Esso Service Station; Mr. Saunders took the photograph while he was in Bermuda in April, 1953].
Born in Bermuda in 1922, he became interested in photography while growing up on North Shore. As a child he became friendly with a local photographer who specialised in portrait shots of visitors; when the photographer gave him some old equipment to experiment with, a lifelong passion was born.
When he was eight years old, Richard Saunders and his family moved to the United States where he put his early training to use while still in school.
At the start of World War II, the family returned to Bermuda and he worked as a photographer with the police department. He was encouraged in his efforts by businessman and portrait photographer Hilton Hill and the family of David Knudsen who owned a Queen Street camera shop.
During the 1940s, Mr. Saunders returned to the US and took up photography training at Brooklyn College and the New School for Social Research in New York City.
In 1946 he married Bermudian Emily Wilson in New York. The couple, who had no children, remained married until Mr. Saunders' death 41 years later.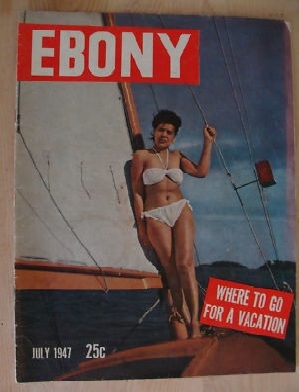 She once posed for him on the bow of a  Bermuda sailboat in a shot which became the cover photo for the July, 1947 edition of the newly launched "Ebony" magazine [pictured here].
Through his friendship with Gordon Parks — a leading black photojournalist who went on to become the director of such movies as "Shaft" — he acquired a job as a photographic lab technician which enabled him to study and learn the techniques of the top photojournalists at "Life" magazine.
In 1950, Mr. Saunders was asked by Roy Stryker to join his team of top photojournalists in Pittsburgh to document the city's transition from a smoky milltown to a modern city.
One of the 20th century's most acclaimed photographers, beginning in the Great Depression Mr. Stryker had dedicated himself to producing a photographic record of the United States as it underwent a period of profound change, one which saw the country transformed from a largely rural culture in the 1930s to an urban, technological one by the 1950s.
Mr. Saunders spent nearly two years in Pittsburgh, living in the Hill District, where he "became part of the environment" and took four to five thousand photographs of the community.
For the next 11 years, Mr. Saunders went on to accept assignments for top American and international publications.
As his reputation for striking portraiture grew, he photographed such noted personalities as US Secretary of State Henry Kissinger, political activist Malcolm X, Nation of Islam founder Elijah Muhammed, writer James Baldwin, composer and conductor Leonard Bernstein, singer James Brown, actor Terence Stamp and Congressman Adam Clayton Powell Jr.
Mr Saunders portrait of Malcolm X, wife Betty Shabazz and daughters Attallah and Qubilah, circa 1962.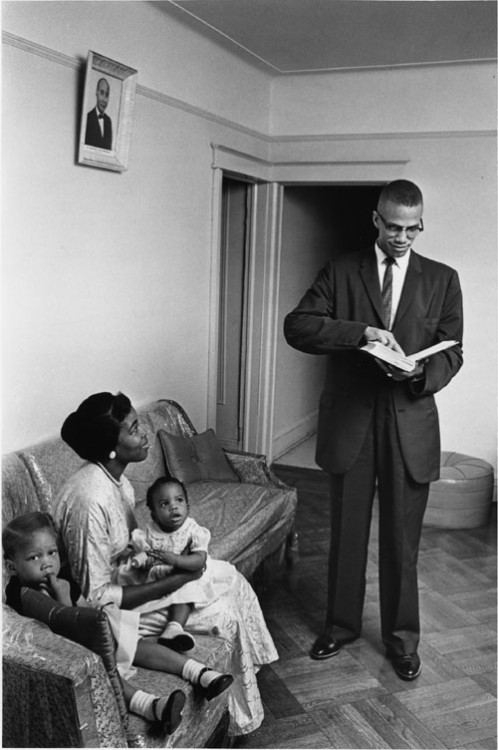 In addition, he travelled to Latin America to document the Alliance for Progress, an economic development programme sponsored by the US government through the United States Information Agency.
In 1967, Mr. Saunders accepted a staff position with the USIA's magazine for Africa, "Topic", and was based in Tunis, from where he travelled throughout Africa photographing events, leaders and ordinary people.
Transferred in 1972 to "Topic's" office in Washington, D.C., Mr. Saunders continued to travel and photograph in Africa until his retirement in 1986. In addition to publication of his photographs in magazines and newspapers, Mr. Saunders also exhibited his work in group and one-man shows. His exhibit "Impressions of Africa" received particular acclaim during a 30-country tour of that continent in 1973.
He was also affiliated with the Black Star publishing company and photo agency.
While the Bermuda National Gallery has a sizable permanent collection of Richard Saunders' photographs, the bulk of his work was donated to the New York Public Library's Schomburg Center for Research in Black Culture.
Read More About