The Bermuda Sloop Foundation and Masterworks Foundation have launched "Art in Sailing 2013″, a collaborative fundraising effort.
Masterworks and Bermuda Sloop Foundation have specially selected five of the most popular and iconic paintings from the Masterworks permanent collection, each depicting the sailing tradition of Bermuda.
Each painting has been reproduced using the giclee reproduction process with only five reproductions of each painting being produced.
This represents a truly rare and unique opportunity to own a high quality reproduction of an historic work of art from the permanent collection of the Masterworks Museum of Bermuda Art.
"Three of these magnificent giclee reproductions are being offered, unframed, to the public via a silent auction on the website artinsailing.wordpress.com," said a spokesman for the two Bermuda charities.
The online bidding will conclude at 5 pm on April 12. The remaining two framed reproductions will be offered in a live auction to be held at the main event on April at the Masterworks Museum of Bermuda Art."
If you would like to preview these reproductions in person, they can be seen at the Masterworks Museum of Bermuda Art in the Botanical Gardens or at Bermuda Sloop Foundation offices at 12 Wesley Street, Hamilton.
The paintings are by Thomas Driver, who arrived in Bermuda in 1814, probably with the Royal Engineers; American Frederic James [1915-1985]; Canadian Isabel McLaughlin [1903-2002] , the daughter of Sam McLaughlin, president of General Motors, Canada who had a home at "Cedar Lodge" on Harbour Road in Paget; an unknown 19th/20th century artist whose painting of Bermuda dinghy racing has been dated to circa 1900; and Canadian Andre Bieler [1896-1989] who spent time in Bermuda in 1922.
Frederic James painting "Front Street, Hamilton" [1938]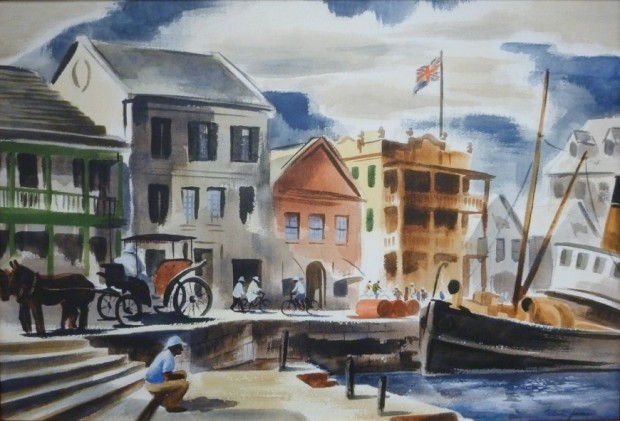 Tom Butterfield, founder and creative director at Masterworks noted, "We are extremely pleased to be partnering with Bermuda Sloop Foundation on this special fundraising opportunity to support our educational programmes and Bermuda Sloop Foundation's experiential and academic learning process.
"This truly is a unique opportunity to acquire a rare piece of Bermuda history through these stunning giclee reproductions of five treasured pieces from the Masterworks permanent collection."
Echoing this sentiment, Alan Burland, chair of Bermuda Sloop Foundation, said: "Educating and developing our youth and bringing the community together are key objectives of both of our organisations.
"This truly is a unique opportunity not only to acquire a rare piece of Bermuda art, but also to support two charities that share a love of the sea and a devotion to community."
Gicee reproductions of these five paintings are featured in the silent auction 

Read More About