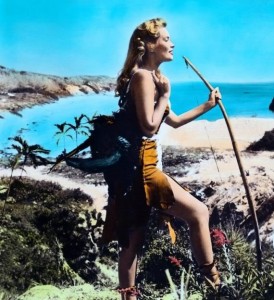 She remains best remembered for being Truly Scrumptious in name and appearance in the children's classic "Chitty-Chitty Bang-Bang" [1968] — but almost a decade earlier Sally Ann Howes' comic turn as an English aristocrat who is stripped of her pretensions [and most of her heavy Edwardian couture] in Bermuda endeared her to an older movie audience.
A witty adaptation of J.M. Barrie's 1903 play of the same name, "The Admirable Crichton" is about an aristocratic Edwardian family and their servants who finds themselves marooned on a South Seas island — and how the normal social roles are reversed during the struggle to survive.
With Bermuda standing in for the imaginary Pacific island, the 1957 movie was directed by Lewis Gilbert and also starred Kenneth More and Diane Cilento.
At Loam Hall in 1905 England, Lord Henry Loam [Cecil Parker], the socially conscious master of the estate, preaches equality for all, even though he enjoys a life of privilege. To prove his point, Loam instructs his three haughty daughters, Lady Mary [Ms Howes], Catherine [Mary Haystead] and Agatha [Miranda Connell], to entertain the staff at tea that afternoon.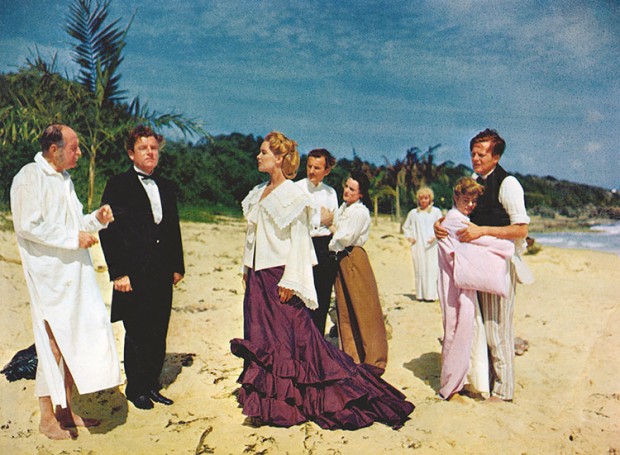 When Loam's impeccable butler, William Crichton [Mr. More], informs his underlings that their attendance is required at tea, they are only slightly more mortified that Loam's daughters. Also attending the soirée that afternoon is George Brocklehurst [Peter Graves], Mary's snobbish fiancé and his mother, the pompous Lady Emily Brocklehurst [Martita Hunt]. The party abruptly ends, however, when word comes that Catherine has been arrested for attending a suffragette meeting, causing Loam promptly to renounce all attempts at equality.
To escape the scandal of Catherine's arrest, Crichton suggests that the family take a cruise, with the staff in attendance. Also joining the group is Alex Wooley [Gerald Harper], the second son of a Lord, a vicar [Jack Watling] and Eliza [Ms Cilento], the servant known as "Tweeny" because she has not yet achieved the position of lady's maid.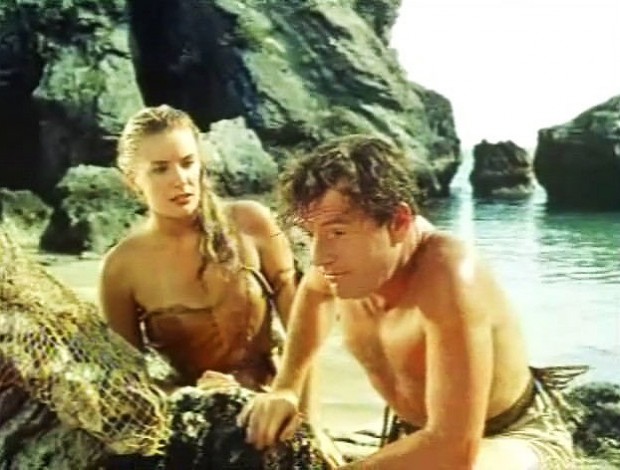 Once at sea, Lady Mary questions Crichton about his ambition, and he replies that he is content to be a butler, the highest rank in the hierarchy of servitude. One blustery night, a storm hits, and after the engines explode, the captain gives the order to abandon ship. When the lifeboats are launched, Crichton goes below deck to rescue the sleeping Eliza.
After jumping overboard, the two are picked up by the boat carrying Loam, his daughters, the vicar and Wooley, who have become separated from the others.
Spotting an island in the distance, the group eagerly makes their way to land. Upon reaching shore, the inept vicar and Wooley tie the craft to a turtle who then tows it out to sea.
After surveying the island, Crichton reports that it is deserted and begins to take charge of the situation, assigning sleeping quarters and kindling a fire.
 Eliza, who is smitten by Crichton, describes herself as a bumbling oaf compared to the polished butler. Soon after, they see the "Bluebell", their abandoned yacht, approaching the shore and watch as it founders on some rocks.
Swimming to the wreck, Crichton retrieves the basic necessities, prompting the others to order him to return to the boat and bring back frilly dresses and a formal dining service. When Crichton questions their frivolity, Loam fires the butler for insubordination, and Crichton leaves the camp followed by Eliza.
Hungry and helpless, that night Loam and his fellow aristocrats smell the scent of roasting pork and follow it to Crichton's camp, where the butler beneficently offers them a pork chop.
Only Lady Mary resists Crichton's authority.
One day while swimming to the wreck, she begins to flounder in the water. Crichton, nearby, presses her to continue on, and upon reaching the boat, she sobs on his shoulder.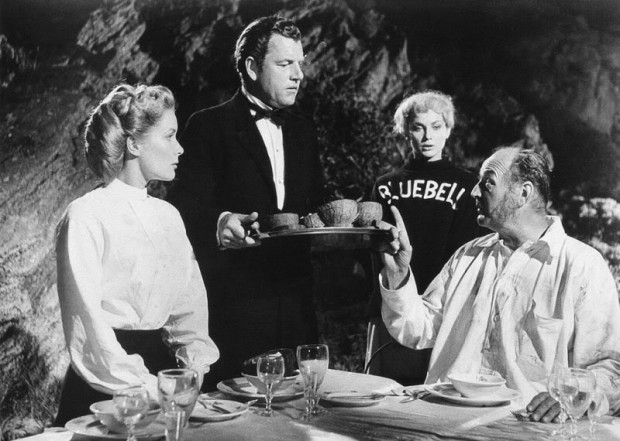 Two years later, life on the island is thriving under the benevolent rule of Crichton, whom everyone now addresses as "Guv."
Even Loam treats his former butler with deference, happily pressing his pants and running his errands.
As Crichton rallies the others to build a boat to sail back to England, it becomes obvious that no one wants to leave the idyllic life on the island.
Later, Crichton confides to Mary, with whom he has fallen in love, that he is afraid of losing her once they return to civilization. When Crichton informs Eliza that he and Mary have become engaged, the heartbroken Eliza puts on a brave front.
On their wedding day, Mary and Crichton are in the midst of exchanging their vows when a ship is spotted offshore.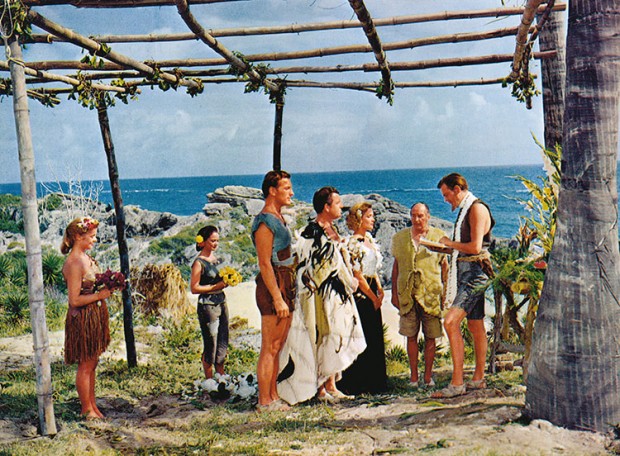 Although Mary opposes lighting the beacon they have built to signal passing ships, Crichton, putting the welfare of the others above his own happiness, orders the beacon lit. By the time the ship's crew arrives on the island, Crichton has reverted to his role as butler. Some time later, a ball is held at Loam Hall to celebrate the return of the survivors.
Lord Loam now takes total credit for their success and Wooley has published a book about the adventure, painting himself as the hero. While they all fear that Crichton will expose their incompetence, Lady Brocklehurst, suspecting that something is amiss, decides to uncover what really happened and so assembles the survivors in the drawing room.
When she asks Crichton if they were all equals on the island, he assures her that the social order was preserved.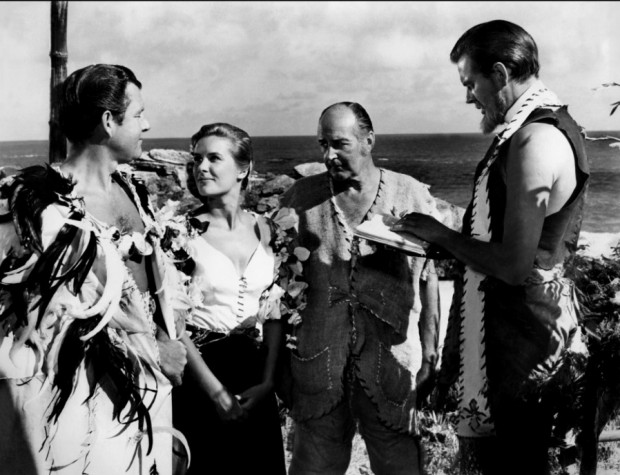 After the celebration ends, Crichton announces that he plans to leave service because there are "too many Lady Brocklehursts in England." Crichton explains that he plans to finance a business with the pearls that he pried from the oysters on the island.
When Mary begs him to return to the island with her, he replies that they cannot fight civilization.
Afterward, on the servants' staircase, Eliza asks Crichton to take her with him. Later, Crichton bids the family farewell and is then joined by his fiancée, Eliza.
Shot at various picturesque locations around the island — including Grape and Horseshoe Bays — between September and December 1956, some of the interiors were filmed at the movie and television production facility built in the old flying boat hangers on Darrell's Island.
The film was the third most popular movie at the British box office in 1957 and was a critical and popular hit in the US as well where it was released under the title "Paradise Lagoon."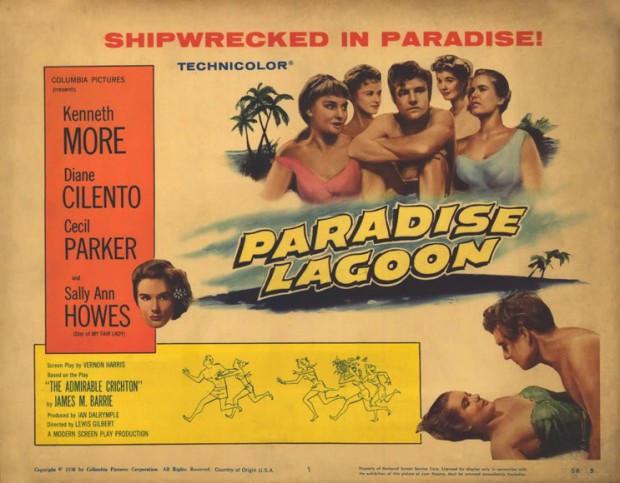 Ms Howes, now 82 and living in West Palm Beach, was recently greeted by 1,500 adoring fans when she attended a January Turner Classic Movies screening of "Chitty Chitty Bang Bang" in Florida.
Born into a theatrical family, she made her acting debut as a teenager and went on to appear on Broadway and in the West End in such musical productions "My Fair Lady", "The Sound Of Music" and "Caprice" as well as dramas like an adaptation of James Joyce's "The Dead."
Long-time friends, such as Robert Osborne, host of Turner Classic Movies, rave about her.
"Sally Ann is extremely attractive, level-headed, talented, a credit to both the theatrical profession and womanhood in general," says Mr. Osborne. "I've never heard even a hint of temper tantrums or diva behavior from her; it's clearly not part of her DNA. She has great respect for the profession that's always been an integral part of her life and it shows in her work on stage and her outlook off. I've been an enormous fan of hers since I saw her light up a theatre in a magnificent production of 'The Sound of Music,' and years later she had the same effect on me watching her on Broadway in James Joyce's 'The Dead.'
Clips from Portuguese language print of "The Admirable Crichton"
"The one downside is that she consistently preferred to work on stage rather than in films, so we don't have the huge collection of films to enjoy that we should have. The great plus is the joy she exudes as a human being."
Ms Howes also considers herself a creature of the stage. "I would have liked a film career, but I didn't pursue it — I just loved connecting with an audience. The theater is a drug. The problem is that to be remembered, you have to do films.
"I'm pretty well retired now. If anybody asked me my greatest success, it would be my marriage. That is my rock. I've seen so much unhappiness in show business — women being ruined by career. I see a lot of lonely actresses, but Douglas [Rae, her husband of 42 years] and I never stop talking. He's fun.
"The joy of my marriage is like the joy of the theatre — being with creative people. It's always exciting. I've always thought it's a sin to be dull."
Gallery of images of Ms Howes from "The Admirable Crichton" Bermuda location shoot:
Read More About
Category: All, Entertainment, Films/Movies