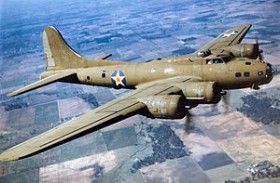 Developed in the 1930s, Boeing's B-17 Flying Fortress became one of the workhorses of the United States Army Air Force [USAAF] in World War Two — and a familiar sight at Bermuda's newly built air field during that conflict.
Used primarily in daylight precision strategic bombing campaigns against German industrial and military targets, there were 26 B-17 bomber groups based in Britain and six groups in Italy by the time the war ended.
The heavily armed B-17 played a lesser role in the war in the Pacific.
A total of 12,700 B-17 bombers came off US factory production lines during World War Two and hundreds of the aircraft passed through Bermuda en route to the European Theatre of Operations.
The B-17 G was powered by four Wright R-1820-97 Cyclone turbo-supercharged, 1,200 horse power radial engines. It had a range of 2,000 miles and a top speed of 287 miles per hour and the bomber's wingspan was 103 feet.
The Flying Fortress needed a crew of 10, for it was armed with 13 12.7 mm M2 Browning machine guns. It could carry a bomb load of up to 8,000 pounds.
After the war General Carl Spaatz commented that "without the B-17, we might have lost the war."
B-17 Fortresses of the 390th Bomb Group in transit from the US to England in Bermuda, June, 1943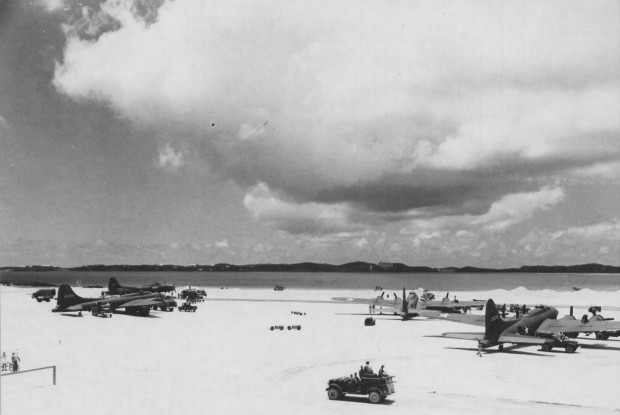 Following the war, some B-17 bombers made their way to the newly-created state of Israel via the black market, some were treasured by collectors in form of museums, while most of them were melted down for scrap.
The most famous of the surviving B-17 is arguably the 25-mission veteran of European Theatre "Memphis Belle", which is now at National Museum of the United States Air Force near Dayton, Ohio, United States for restoration and display in the near future.
– Photograph courtesy of the US National Archives
Read More About