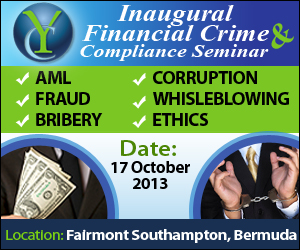 yCompliance,and the Association of Certified Anti-Money Laundering Specialists [ACAMS] is going to present the inaugural Financial Crime & Compliance Seminar at the Fairmont Southampton in Bermuda on October 17, 2013.
The nature of the financial crime regime is changing significantly. Financial institutions are not only tested by organized and innovative financial criminals, they also face increasing pressure from domestic and international regulators to have robust systems and controls to manage the risks posed by financial crime.
A panel discussion on the topic, "What can financial institutions expect from examiners?", will educate Compliance practitioners such as Money Laundering Reporting Officers [MLROs], key stakeholders in financial institutions, law enforcement agencies, government bodies, and other professional groups practicing in financial crime and compliance related areas.
Panelists will deliberate on issues relating to Regulatory supervision and expectations, Risk based approach, and FATCA KYC obligations, just to name a few.
Panelists will include:
Moderator: Jarion Richardson, FICA, CAMS [Senior Compliance Manager, Appleby [Bermuda] Limited]
Tina Laws, FICA, CAMS Managing Director, Compliance Matters Bermuda Ltd.
Charles Thresh, Managing Director, KPMG
Martha Myron, CPA, PFS, CFP[USA], President, PondStraddler Life Consultancy
Tom Galloway, CAMS, Deputy Director, Bermuda Monetary Authority
The one-day seminar will also feature several keynote addresses and networking sessions with eminent personalities from globally recognized financial institutions, and key regulatory decision makers in Bermuda. Some of the topics that will be discussed include Cyber Crime, IMF Assessments and FATF Requirements, AML Compliance, as well as Fraud.
Speakers include:
Cynthia Cooper – WorldCom fraud whistleblower.
Craig Swan – Managing Director of Supervision, Bermuda Monetary Authority [BMA].
Larry Clinton – President, Internet Security Alliance [ISA].
Ross Delston, CAMS – Attorney and Expert Witness on Bank Secrecy Act/Anti-Money Laundering issues, and consultant to the IMF.
Dr. Kelly Pope, PhD, CPA – Associate Professor, DePaul University
Raphael Simons, CFE – Manager Security and Fraud Risk, HSBC.
More details about the seminar as well as speaker biographies, registration and sponsorship information can be found here or by emailing info@ycompliance.com. Delegates will qualify for eight Continual Professional Education [CPE] hours and will enjoy lunch and a post conference networking event with complimentary drinks andhors d'oeuvres.
Read More About