The 2014 Bermuda Amateur Match Play Championships will be played from Wednesday, March 5 to Saturday, March 8 at the venerable Mid Ocean Club, according to the Bermuda Golf Association [BGA].
Players can choose to compete in one of three divisions – men, ladies, or senior men [55 and over]. The entry fees are $250 for men and ladies, and $200 for senior men, with Mid Ocean and BJGA members offered a fee reduction of $100 for each division.
The event will begin with an 18-hole qualifying round on March 5, after which players are seeded in their respective divisions based on their stroke play scores. The men's and ladies divisions will be flights of 16, with one match to be played on March 6, two matches on March 7, and a 36-hole final on March 8.
The men's senior division will be a flight of 8, with one match each on March 6 and March 7, before an 18-hole final on March 8.
Last year, Jarryd Dillas won his fourth consecutive Match Play title, overwhelming Chris Brough by a margin of 8 and 6 in the men's final. In the ladies division, Ann Symonds narrowly defeated Linda Down in a hard-fought contest that was decided by a final putt on the 36th hole. The win was Symonds' maiden Match Play victory. Both have indicated that they intend to defend their titles next week, with Dillas looking to lift the trophy for an unprecedented fifth time in as many years.
"I know it has to end sometime, I just hope that time doesn't turn out to be next week", said Dillas.
"Match play is such an unpredictable format; each opponent presents you with a new set of challenges and it's usually the player that makes the fewest mistakes that comes out on top in the end. My game is in good shape at the moment, so hopefully I'll have a successful week and be in with a chance come Saturday."
Jarryd Dillas claims his championship along with Kathy Lloyd Hines in the 2012 Match Play Championships: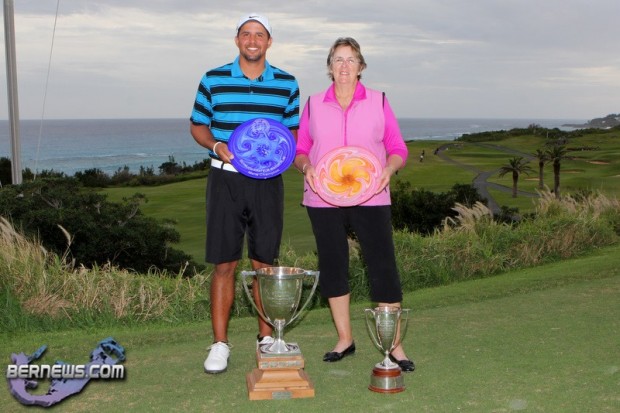 The reigning champion also took time out to reflect on the low player turnout experienced by the event in recent years. "It's obviously disappointing that we don't see more people come out to play in one of our national championships. I understand it means taking time off work, but it's the same everywhere around the world. The United States, British, and Canadian Amateurs are all played, in some part, during the middle of the week, and they manage to attract full fields of well over 200 players," said Mr. Dillas.
"The difference is that those events are held in extremely high regard within their respective golfing communities, whereas golfers here see very little value in entering our major amateur events, and unfortunately that's not a problem that can be fixed overnight. The BGA has a lot of work to do in order to make its events matter to people again, and I think the association acknowledges that and is beginning to take the necessary steps in order to regain the trust and attention of the local golfing public."
Asked if he thinks this year will be any different with respect to participation, Mr. Dillas replied, "I certainly hope so. It's never been more affordable to play, both for members and non-members of Mid Ocean, and I know that a lot of work is being done behind the scenes to ensure that this will be the best organized BGA event to date.
"But organization counts for very little without participation, so I really want to encourage everyone to come out and take part. Match Play is an exciting format, Mid Ocean is a fantastic golf course, and the staff and membership are great hosts for the week, and as I said before, the BGA is really focused on improving the overall player experience.
"It promises to be a fun week and I'm confident that those who choose to participate will not be disappointed."
The deadline for entering the event has been extended to Monday, March 3, with entry forms available at the BGA website. For more information, please contact Gary Venning at the BGA Office via telephone at 295-9972 or via email at info@bermudagolf.org.
Read More About