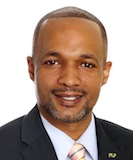 ZBM's Gary Moreno hosted a one-hour interview with the Opposition Leader Marc Bean last night [Feb 17], where Mr. Bean discussed his allegations, said his phone is tapped, and said tapes exist that would "bring the Government to its knees in 24 hours."
Mr. Moreno started out by asking Mr. Bean why he did not come forward with these allegations earlier or contact the Police or Government House, to which the Opposition Leader said "no bribe has been accepted."
Mr. Bean said, "Because he is talking about it, that may be unethical, but it's not illegal. It is the actual action of taking a bribe, giving and receiving a bribe that is illegal. If we had evidence to that effect, than certainly I would have reported it to the Commissioner of Police."
MPs all have Parliamentary Privilege, meaning they cannot be sued for anything they say in the House of Assembly. After Mr. Bean made his allegations in the House on Friday, he was challenged to repeat them outside the House by Minister Shawn Crockwell, and Mr. Bean did repeat the allegations outside the House.
There was also some discussion about the situation involving the recording made by OBA MP Nandi Outerbridge, with Mr. Bean saying he "gave her a heart to heart reasoning."
He repeated the call to release the tape, and said there are "enough tapes circulating, some tapes that if released would bring the Government to its knees within 24 hours."
"So if you want to do it, so if you want transparency, let's go into the tapegate phase of this debacle," said Mr. Bean. "Because eventually for Bermuda to go forward….we are going to have to deal with truth."
Mr. Moreno opened the phone lines to callers, and one person asked would Mr Bean allow his phone records to be made public.
Mr. Bean said, "Of course. I am certain my phone is tapped anyway. So that's no big thing, most politicians, especially on my side of the fence, we know our phones are probably tapped."
When asked what evidence he has of his phone being tapped, Mr. Bean said, "I know the environment I am living in. I know the position I inherited as the Leader of the Progressive Labour Party. I know that people don't like me, not because of my policies but who I represent…"
"If you think for one moment that my devices are not being tapped into or monitored, then I shouldn't be in politics. In fact to be as naive as some would say the Premier was to think he would actually think he would be the Leader of this country once the One Bermuda Alliance took power," added Mr. Bean.
He also mentioned the "Jetgate" situation —  noting that the Premier took his gas station manager with him on the flight — and said once the fact there was a fourth person on the flight became public knowledge the Premier "conveniently dismissed" it.
In a statement issued late last night, a PLP spokesperson said: "The Premier's failure to address serious allegations made against him are very troubling.
"The new Casino Development will be one of the largest in Bermuda's history; we as a country must get it right and the process must be transparent.
"The Premier's continued refusal to be reveal the nature of his relationship to a potential casino developer is eroding investor confidence in Bermuda. If the Premier has nothing to hide, he should then come clean with the nature of his relationship with Nathan Landow.
"The PLP will continue to press for answers to legitimate questions to ensure that the people's business in being conducted in an ethical manner that will benefit all Bermudians."
We have asked the Premier for a response to Mr. Bean and the PLP's statements, and will update as able.
Read More About