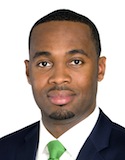 [Updated with video] Shadow Finance Minister David Burt delivered the Opposition's Reply to the Budget in the House of Assembly today [Feb 28], outlining Bermuda's current economic situation and what can be done to improve it.
Mr. Burt, an IT professional, managed to live tweet his Reply to the Budget while simultaneously speaking in the House, with around 30 tweets with speech highlights emanating from his account while he was speaking, most likely having been preset.
The Opposition's Reply to the Budget covers the PLP's alternative budget ideas, including a number of revenue generation ideas for the government to consider, ranging from tax reforms to the regulation and taxation of cannabis.
The Reply also explores a number of critical reformation proposals, including changes to the banking system, changes to the immigration system, and a relaxation of the 60/40 rule for more sectors, with a focus on "investing for the future."
The Reply covers such points as:
The benefits/risks of austerity
Improvements to Civil Service efficiency
Online gaming revenue opportunities
Regulation and taxation of cannabis
Reinstatement of $5 million towards education
Increase of $5 million towards energy investments
Reinstatement of $5 towards Bermuda Tourism Authority
Increase of $4.3 million towards training, scholarships, and workforce development
Increase of $2 million towards online government services
Reinstatement of $2 million towards Bermuda College
Reinstatement of $2 million towards police budget
Commitment of $1.5 million towards community development grants
Reinstatement of $1.2 million towards child and family services
Reinstatement of $1 million towards youth, sport, and recreation
Commitment of $1 million in extra funding towards customs
Banking reform to benefit consumers
The PLP's Full Reply to the Budget is below [PDF here]:
Update 3.36pm: Video of the PLP's Budget Reply press conference today
Read More About