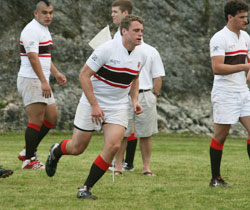 Brown University — who are visiting the island from Rhode Island for a three match test-series against Bermuda's Invitational teams — began their tour against the Bermuda Under 19's.
Bermuda started off brightly with some good lines of running and big tackles being made. Chakote Wainwright-Basden scored after a well-worked team effort that saw quick, skillful passing and strong running by all those involved.
After some good pressure by Bermuda and some great defensive work by the forwards, Micah Perozzi scored an intercept try before half-time. At the start of the second half, Bermuda created a superb score for Kemal Easton after a solid scrum on the half way line.
However, the ebb and flow of the match was clear to see as Brown University wisely used their bench to provide added strength and fitness to their attack.
The head coach of Bermuda's U19s stated, "It was a great performance by the squad, but the heat, the fact that it was the first game of our season, and the opposition emptying their bench meant it was a true game of two halves. Excellent heart and character shown."
The final score saw Brown University take the match at 34-19.
"The women's Scully Cup final was held next and saw the Renegades and Mariners go head to head. The Mariners rampaged ahead and secured a well-deserved win despite the spirited play of the Renegades.
"The Mariners scored five tries through Neeks Boden, with three, along with Alexis Barker and Gina Newson. The Renegade's only try came courtesy of Orla Haplin.
"The men's final of the Scully Cup was eagerly anticipated by the ever growing crowd that saw the Police up against the in-form Renegades; the Renegades won the same competition the previous year and, given their squad experience and current form, could arguably have been regarded as the favorites going into the match.
"The crowd was not disappointed as both teams made clear their attacking intent throughout the game with police tries scored by Corbus Vermaak, with two, along with Dan Cole, Neville Zuill, and Tommy Edwards. The Renegades responded with tries from Rich Cumbers, Peter Dunkerley, and Alex Donkervoet.
"Both kickers also ensured that their kicking was accurate during the match as every point counted. Police fly-half Darryn Gillespie scored three conversions to keep his team in front, even by the slenderest of margins, as Rich Cumbers from the Renegades ensured his one penalty and two conversions maintained the pressure.
"Finally, towards the middle of the second half, the Police were able to exert control and close out the game to claim their fourth piece of hardware this season by a final score of 31-22."
Read More About