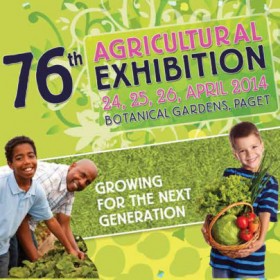 The 76th Agricultural Exhibition will be held on Thursday, April 24th, Friday, April 25th and Saturday, April 26th at the Botanical Gardens, and the theme for this year is "Growing for the Next Generation"
This year the Agricultural Exhibition will feature overseas Trampoline Act The French Connection. "This is a performance high in energy that will have all spectators holding their breath throughout the entire show," explained Exhibition Planner Georgette Caines.
"It unfolds on an Olympic size trampoline that allows the performers to present a very dynamic and entertaining show – demonstrating maneuvers with heights up to seven meters."
"Livestock, vegetables, fruits, floriculture, homemade food products, wood crafts and educational categories are brimming with entries this year. Cow milking, equestrian events, poultry judging, home baked goods… everything you would expect from the 'Ag Show' will be found on-site at the Botanical Gardens in Paget next week."
Another highlight of the Exhibition this year is that it will feature a portion of the 'Bermuda leg' of the Queen's Baton Relay, which is essentially the curtain-raiser to the Commonwealth Games.
The Commonwealth Games are international, multi-sport events – held every four years for athletes from Commonwealth nations. Over a period of 288 days the baton will visit 70 nations and territories, cover 190,000 kilometres and involve a third of the world's population.
On Saturday afternoon the baton will be run from Watch Hill Park to the Main Ring in the Botanical Gardens where it will then be handed off to a Bermudian Commonwealth athlete.
Another new feature this year will be a football competition at the end of the Exhibition on Saturday afternoon, called the 'Kappa Classic' where children from different football clubs across the island will compete in a friendly game of football.
Minister of Public Works Patricia Gordon-Pamplin said: "I wish to extend a warm thank you the hundreds of volunteers and participants that make this show a success year after year. The Exhibition showcases the best Bermuda has to offer both agriculturally and culturally – to locals and tourists alike."
Food is available courtesy of registered charities, which set up small booths and provide a variety of food. Tickets are available at the Exhibition on the day. Admission is $10 for adults, $5 for children under 16 years, $5 for seniors and free for children under 5 years of age.
"Thursday is typically the most popular day with seniors, pre- schoolers and anyone else who wants to see the items on display at their peak of freshness in attendance," said Ms Caines.
"Friday has been dubbed, 'No school day' and the students look forward to it each year. Hundreds of students take full advantage of the holiday to see if they've won a coveted rosette or a highly commended sticker. And Saturday is generally a family day. Many come out to enjoy the day and the beautiful setting."
The grounds are open daily from 8.00 a.m. to 6.00 p.m. and exhibition houses are open from 9.00 a.m. to 6.00 p.m.
There are four points of access to the Agricultural Exhibition, with all but one being drop-off points only. The Point Finger Road entry, Peace Lutheran Gate entry, and the Berry Hill Road entry are all drop-off locations only while vehicles can enter and park for free if they use the South Shore entrance.
This year's schedule can be found here [PDF]
Read More About
Category: All, Entertainment, Environment, News