Last Thursday [Apr 17], the Minister of National Security Michael Dunkley attended Victor Scott and Prospect Primary for the first G.R.E.A.T. [Gang Resistance Education And Training] graduations.
This past January, Minister Dunkley provided an update on the initiative which is a youth awareness educational programme aimed at addressing violent crime in Bermuda.
Minister Dunkley said today, "I was proud to attend the first G.R.E.A.T graduations today at Victor Scott and Prospect Primary Schools.
"We are pleased to do whatever we can do in preparing our youth to make positive lifestyle choices and to make valuable contributions to this community. This pilot is the first step in the G.R.E.A.T. implementation. The G.R.E.A.T. Middle School components will be rolled out in the fall of 2014."
Minister Dunkley with G.R.E.A.T. graduates from Victor Scott Primary School: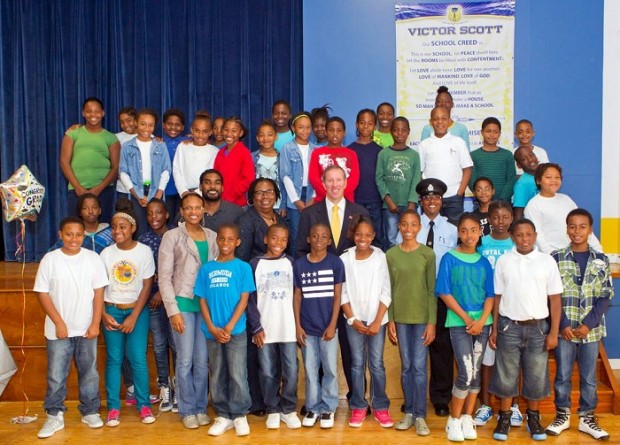 The Ministry said, "The G.R.E.A.T programme is designed for P5 and P6 students and consists of six 30 to 45 minute lessons competency-based life skills curriculum to establish the foundation that prepares children for the intensified content and cooperation exercises taught in the middle school curriculum, while developing a positive bond between law enforcement and youth.
"The goal is to help students practice developing positive solutions and appropriate decision making when faced with tough decisions. Each lesson is accompanied by a family letter that the student takes home explaining the lesson and encouraging parent/student interaction.
"One special feature of the curriculum is the activity about bullying behaviors. This activity uses a pervasive and realistic problem to prompt student discussion and the development of positive solutions."
To date, the pilot programme has been rolled out in the following schools:
Gilbert Institute
Harrington Sound Primary
Prospect Primary
Somerset Primary
Victor Scott Primary
West End Primary
Elliot and Paget Primaries will be starting next month. Over 200 students are expected to participate in G.R.E.A.T programme before the end of this school year.
Read More About