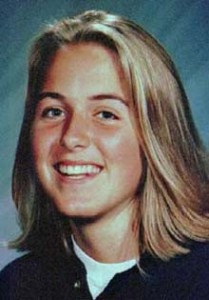 [Updated] Home Affairs Minister Michael Fahy has denied work permits to an overseas film crew — who planned to film a documentary on the Rebecca Middleton murder — citing "potential reputational risks to Bermuda."
When the matter first arose late last month the Minister had said, ""The Middleton film crew were not denied work permits. Rather, they had not applied for any permits in the first instance – which is what they should have done."
He said at that time the matter was brought to him at a standing Immigration meeting on March 20th for consideration as a result of there having been no work permit applications made.
"I made the correct determination during the meeting that temporary work permits must be applied for – which requires a ten day lead time," said Minister Fahy.
However he has subsequently denied the crew work permits, with VSB reporting that the Minister denied the work permit request, and that the film crew plan to continue with their plans to produce the documentary despite the refusal, and will conduct interviews outside of Bermuda.
The filmmakers were planning to travel to Bermuda to film a documentary for Discovery ID about the tragic murder of Canadian visitor Rebecca Middleton [pictured], which occurred in July 1996.
The 17 year old was raped and killed while vacationing on the island, and the handling of the case has been widely criticized both locally and overseas, and the Middleton family and their supporters have campaigned for many years for justice to be served.
Update 12.27pm: The Ministry of Home Affairs said, "It should be noted that the Minister, Sen. the Hon. Michael Fahy has considered the temporary work permit applications, and has taken the decision to deny the applications pursuant to Section 61 (4) (e) and (f) of the Bermuda Immigration and Protection Act 1956 [PDF].
The referenced section states:
61 (4) The Minister in considering any application for the grant, extension or variation of permission to engage in gainful occupation, shall, subject to any directions which Cabinet may from time to time give respect of the consideration of such applications, take particularly into account:–

e. the protection of local interests.
f. generally the requirements of the community as a whole.
Minister Fahy said, "The tragic events that took place 18 years ago marked a very dark time in Bermuda's history.
"Since Rebecca Middleton's death, considerable lessons were learned particularly as it relates to our criminal justice system and as a result significant steps were taken from a legislative and Police procedural stand point to address any deficiencies in our system.
"Regarding the film crew's request to visit, after carefully and extensively assessing the matter, we recognised that there would be some potential reputational risks to Bermuda associated with the ultimate airing of this documentary.
"Based on the provisions under the law and at my discretion, a decision was made to decline their application for temporary work permits," added Minister Fahy.
Read More About