The Team Hurricane Basketball Program will be sending five of its players to famed Coach Jim Boeheim's Basketball Camp.
Bermuda student-athletes Zachary Johnson, Mykal Glasgow, Kumari Tannock, Jorel Smith, and Jacy Lowery, will be attending the camp held at Syracuse University in New York from June 28 through July 2.
Team Hurricane founder and head coach Doug Reed is a graduate of Syracuse University, so the decision to have Hurricane players attend the Syracuse camp was any easy one.
"I loved my experience at Syracuse University and the school's passion for its basketball program," said Coach Reed.
"I also welcome the opportunity to promote my school and the college experience to young people. The Team Hurricane players will get a small taste of college life and get a chance to stay in the dorms and walk around the campus.
"More importantly, they'll play competitive basketball in one of college basketball's top venues – the Carrier Dome [pictured below], although not in front of 30,000 fans."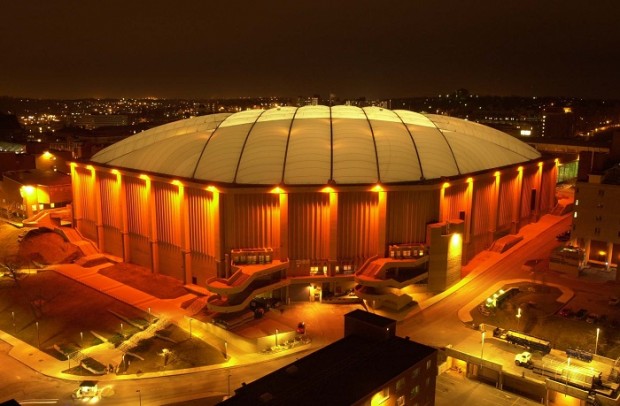 "The camp is led by Hall of Fame coach, Jim Boeheim. Coach Boeheim is currently second on the wins list of Men's NCAA Division I coaches with 948; only Mike Krzyzewski of Duke University has more wins.
"Under Coach Boeheim, Syracuse University basketball is one of the most successful programs in the country, ranking as an NCAA Champion in 2003 with four Final Four appearances, and, most recently, the school achieved a number one ranking for three weeks during the 2013-2014 season."
The Syracuse University trip is Team Hurricane's first overseas basketball experience. Coach Reed believes that this camp will allow Hurricane players to test their talents, learn, and grow while competing against top notch players in their age group.
"Kumari Tannock, Jorel Smith, and Jacy Lowery play the point guard position; though only in middle school, they possess the toughness and leadership skills the Hurricane program demands of those playing the point," Coach Reed said.
"Mykal Glasgow is a confident and smooth jump shooter and Zack Johnson is a rugged, interior player capable of shooting the ball from the perimeter as well. The five young men are reflective of all the young men involved in the Team Hurricane Basketball Program, being talented, hardworking and committed to the game.
"Once at camp, the young men will be immersed in basketball with a daily schedule as follows that will see them awake at 7.30am and on the Dome's court by 9.00am each morning. Each day will include drills, games, and individual instruction running through 10.30pm each night."
Coach Reed added, "This trip demonstrates the Team Hurricane Basketball Program's strength to provide a platform in which student-athletes can train, develop and reach their academic and athletic potential.
"This camp will provide Team Hurricane players the opportunity to learn the game the same way the renowned Syracuse University Orange squad is coached and will, in the process, help the sport of basketball grow in Bermuda."
Read More About