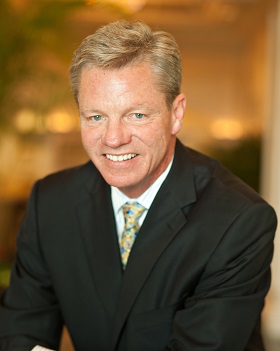 The Elbow Beach Resort has reopened as an independently managed property under the direction of the Burns Group represented by hotel industry leader Edmund Burns.
Previously managed by Mandarin Oriental Hotel Group until March 2014, the resort said their decision to re-open as an independent resort was based on the strength of the brand name recognition of Elbow Beach.
Mr. Burns, a veteran hotelier, experienced in managing transitions from a brand hotel to an independent hotel, has been selected to spearhead the change. Mr. Burns brings more than 30 years of his diversified hospitality industry experience to the resort, along with an extensive track record of hotel revitalization.
Over the course of his career, Mr. Burns has participated in the development, construction and opening of more than $2 billion of hotel real estate, $1+ billion in acquisitions, asset management of a $1 billion hotel portfolio, and the re-positioning and renovation of numerous high-profile hotel properties.
Mr. Burns commented "We are dedicated to being the hotel of choice in Bermuda for the business traveller whether hosting board meetings, conferences or leisure functions or coming to stay for whilst on business.
"We are also dedicated to making Elbow Beach Bermuda the resort of choice whenever the leisure traveller selects their travel destination and we are committed to invest our resources to make this happen"
Elbow Beach began operating as a guest cottage in 1908 and was the first lodging property built along the island's famed South Shore beaches. In 1924, the formal resort as it is known today was constructed by Harold H. Frith. Guests, who arrived by ships to nearby Hamilton, were transported to the hotel via private ferry or horse and buggy.
During World War II, the hotel was closed down and used by the Wartime Supplies Commission as a storage facility by the U.S. Navy, but was soon reopened and refurbished shortly thereafter to include its signature beachside cottages.
Today, Elbow Beach, Bermuda is an intimate luxury resort featuring 98 guestrooms and suites spread amongst 50 acres of gardens.
"This resort has all the assets needed to be successful," said Mr. Burns. "Not the least of which is the best private beach in Bermuda, as well as a world-class spa, outstanding dining options and a strong staff of dedicated professionals."
Mr. Burns noted that business at the resort is already pacing well for the coming months, which he said will also see the announcement of several new initiatives designed to help it more fully appeal to high-end, luxury travellers.
"We have an incredible location on one of the world's most beautiful islands, which also happens to be less than a two-hour flight from a potential customer base in some of the most affluent cities in North America," said Mr. Burns
Read More About