Teddy Tucker — a world class marine explorer — has passed away, leaving Bermuda to honour the loss of a local legend.
Considered to be one of the most preeminent in his field, Mr. Tucker's extensive underwater work brought both him and Bermuda to the attention of the world, and he leaves behind a legacy of excellence in his field that will be difficult to match.
The son of architect Edward Tucker, Mr. Tucker's first job was at the Bermuda Aquarium, which ignited his passion for the ocean. This passion continued when he joined the Royal Navy at the age of 16, and remained a dominant force throughout his life.
He began exploring the ocean's buried treasures in the late 1940s; in his decades-long career, he discovered over 100 historic shipwrecks in Bermuda's waters, found numerous sunken treasures, was featured in international films and magazines, and served as a consultant worldwide.
Interview with Teddy Tucker courtesy of LookTV
World-renowned for his treasure hunting, Mr. Tucker's notable finds included gold bars, silver coins, swivel guns, ancient hand grenades, brass dividers, timing glasses, brass cylinders, bronze mortars, pewter plates, porringers, pottery cruets, and Carib Indian weapons.
The May 9, 1965 issue of The Herald-Journal, an American newspaper, quotes Mr. Tucker as saying he had made close to $500,000 from his finds to that date – which was nearly 50 years ago.
His most famous find is considered one of the most valuable pieces of sunken treasure ever recovered: the emerald-studded 22 karat gold Tucker Cross. Discovered by Mr. Tucker in 1955, it is believed to have come from San Pedro, a Spanish galleon which was lost on the reefs in 1594. He sold it to the Government of Bermuda in 1959, saying "he wanted it to remain on the island forever."
The Tucker Cross: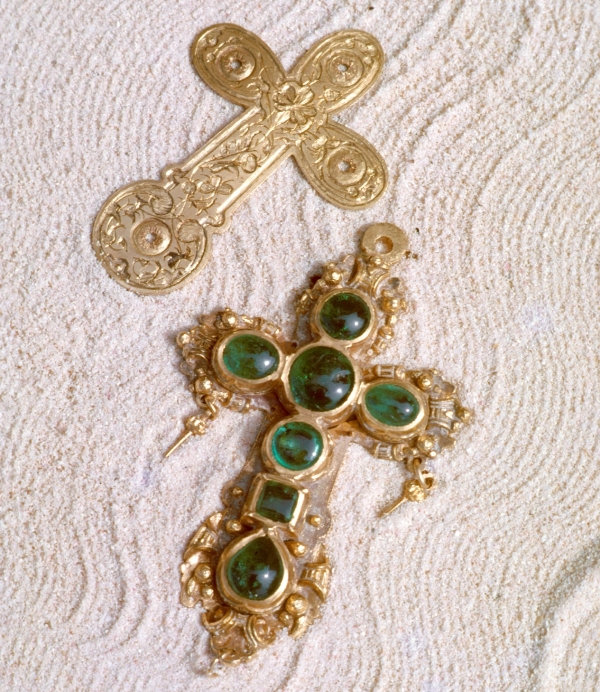 In 1975, just before an official visit by Queen Elizabeth II to the Maritime Museum to view the treasure, it was discovered that somehow the Tucker Cross had been stolen and a replica left in its place.
Despite an investigation which reputedly involved the Bermuda Police, the FBI, Scotland Yard, and Interpol, the original has never been recovered, and the crime remains one of both Bermuda's and the marine community's greatest unsolved mysteries.
In 1994, Mr. Tucker was honoured by the Queen with the appointment to Member of the British Empire.
Mr. Tucker's wide range of ocean adventure's caught the attention of marine enthusiasts and treasure hunters around the world; as "Jaws" author Peter Benchley once said, "Teddy Tucker's legendary undersea exploits helped bring Bermuda to the attention of the world — and helped to bring the world to Bermuda."
Mr. Tucker was the inspiration for his longtime friend Mr. Benchley's 1976 bestseller "The Deep," and the subsequent blockbuster movie adaptation which was partly filmed in Bermuda.
In November 2011, Mr. Tucker published an account of his life and work in the appropriately titled Treasure! A Diver's Life, a lavishly illustrated account of his seven decades exploring the seas both around Bermuda and all over the world.
Mr. Tucker signs copies of Treasure! A Diver's Life [photo courtesy of BUEI]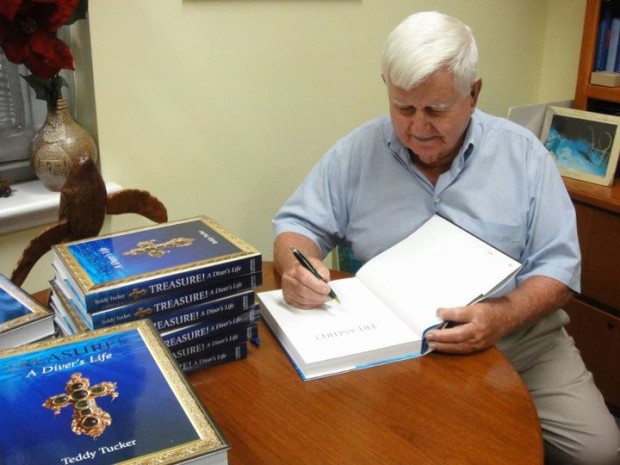 Noted for his wide-ranging influence, Mr. Tucker, alongside members of the Smithsonian Institute, developed the grid system for surveying wreck sites in 1957.
He went on to be a guest of the former Soviet Union at a Marine Symposium in 1990, worked with National Geographic in the Marshall Islands, Pacific Ocean in 1996, and worked again with National Geographic in New Zealand in 1997.
His notable exploits also lead him to be featured in numerous books and magazines around the world for more than 50 years, including Life, National Geographic, Sports Illustrated, hundreds of newspapers, and numerous dive magazines.
Read More About