Gina Spence Productions in Christ [GSPIC] is getting set to present a weekend for fathers, starting with Bermuda's first Father's Day Proclamation, to be read on the steps of City Hall on Friday, June 13, 2014 by Premier Michael Dunkley.
The proclamation, along with words from Dr. Glenn Faries, Russ Ford, Juan Wolffe, and the Bishop of Bermuda Rev. Nicholas Dill, will be broadcast live on FM 89 and Power 95.
Those initial events will be followed by a full salute to fathers, dubbed 'We Love You Dad,' to be held at the WillowBank Conference Center in Sandy's on Sunday, June 15 at 7.00pm.
A spokesperson said, "This event is a major fundraiser for our 'Champions Program,' the first of its kind for victims and their families, which provides educational scholarships, school uniforms, counseling, and healthy food items for children left behind from gun violence in Bermuda."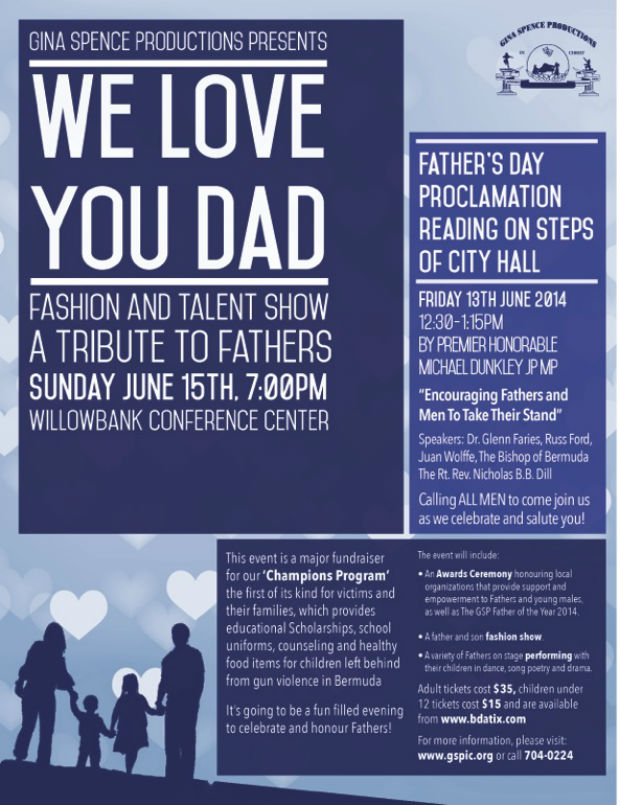 "The event will include an awards ceremony honoring local organizations that provide support and empowerment to fathers and young males, as well as the GSPIC Father of the Year 2014. There will also be a father and son fashion show and a variety of fathers on stage performing with their children in dance, song, poetry, and drama.
"Adult tickets cost $35, while tickets for children under 12 cost $15; tickets are available at bdatix.com, Pulp & Circumstance in Washington Mall, and Fabulous Fashion at Heron Bay Plaza.
"GSPIC is accepting donations online through HSBC Bank Account number 002-051928-001.
"The sponsors of this Father's Day production include MoonGate Insurance, Hott 107.5, Magic 102.7, Butterfield & Vallis, WillowBank Foundation, Defontes Broadcasting, Bermuda Broadcasting Company, Trinity Sound Crew, Cable Vision, and Bermuda Pest Control
"For more information, please visit online, email spencegina@yahoo.com, or call 704-0224."
Read More About
Category: All, Entertainment