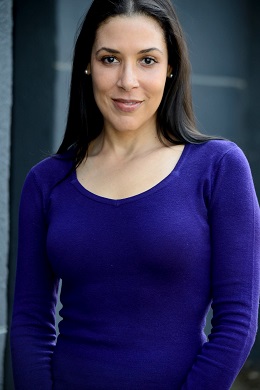 Award-winning screenwriter and author Toni Ann Johnson – who has Bermudian roots – will hold a meet and greet on Saturday for her new book.
From 1pm to 3pm on July 26, 2014, Toni Ann will be at Brown and Co on Reid Street, where she will be selling and signing copies of her new book, "Remedy for a Broken Angel". She will also answer questions about it.
"Remedy for a Broken Angel", Toni Ann's debut novel, was published on June 10, 2014 by Nortia Press and is inspired by a dream Toni Ann had two decades ago. The book opens with Serena in a compromising position with her daughter's husband.
Serena was born into a biracial family in Bermuda but was told she had to live with her coloured aunt, because she couldn't pass for white like her siblings. Her aunt later moves her to New York, where she studies music and becomes a jazz singer.
Serena's childhood left her scarred. As an adult, this leads her to repeat history with her own daughter, Artie, and she abandons the girl when she's twelve. Later in the story, Artie's anger towards her mother forces her to seek out Serena's young lover, Jamie L'Hereaux, who happens to be a jazz superstar.
A portion of the story is told in Bermuda, when Serena returns to deal with her past, which means the Bermudian accent makes an appearance. Bermuda celebrity Johnny Barnes also makes a cameo.
Toni Ann says: "I was very excited to be able to write a book that incorporates my Bermudian heritage. My grandmother was Bermudian and the character Artimeza, who's nicknamed 'Artie' is named after her. As a person of Bermudian descent, I haven't seen any Bermudians in books or movies. Incorporating Bermudian characters is something I've wanted to do for a long time.
"My hope is that Bermudians will buy the book, read it and be able to appreciate the story. I spent a great deal of time researching the Bermudian elements, as well as the jazz. The book is ultimately about finding forgiveness for things that seem unforgivable and it will be gratifying for me if people find that idea helpful in their own lives."
Toni Ann Johnson won the Humanitas Prize and the Christopher Award in 1998 for her teleplay "Ruby Bridges," the ABC movie and true story of the young girl who integrated the New Orleans Public School system. Johnson won a second Humanitas Prize in 2004 for her Showtime teleplay, "Crown Heights," about the 1991 Crown Heights Riots.
She has written a number of dance-related projects, most notably the pilot for "Save The Last Dance", and the feature film "Step Up 2: The Streets". Her stage play "Gramercy Park is Closed to the Public," was produced in Los Angeles by The Fountainhead Theatre Company and in New York by The New York Stage and Film Company.
In addition, Toni Ann has published essays in the Los Angeles Times and short fiction has appeared in The Elohi Gadugi Journal, Sprout Magazine, The Emerson Review, Red Fez and Soundings Review.
Toni Ann is a Sundance Screenwriter's Lab alum. She holds a BFA from New York University's Tisch School of the Arts and an MFA in Creative Writing from Antioch University in Los Angeles.
Read More About
Category: All, Entertainment