ACE Group's second annual insurance focused internship program named ACE Select came to a successful close on August 8, 2014.
The ACE Select Internship offers placement to six Bermudian university students, giving them the opportunity to experience various lines of insurance business. This 12-week program which commenced in June focused on providing hands-on experience, team building, networking, and professional skills development.
From left to right: Denzel Simons, Lydia Barit, Jack Keyes, Amanda Brown, Taré Brangman, Julia Dunne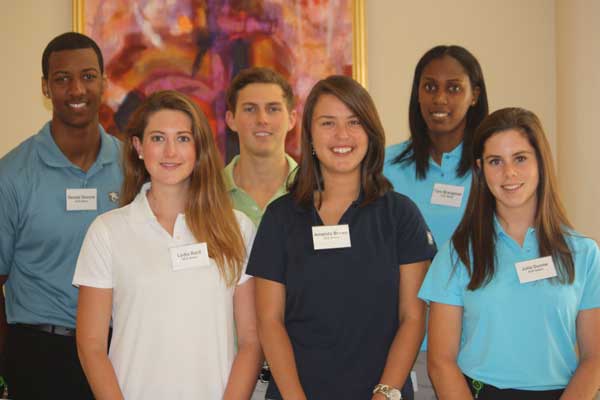 The program rotates the students between three insurance departments – excess liability, professional lines and property. Based on performance, interns are selected to return to ACE for a second summer internship, and work in a specific business unit.
The ACE Select program also gave the students the opportunity to participate in several development workshops to enhance their business and leadership skills. Most recently the ACE Select Interns, as well as the ACE Summer Students, participated in a community day which took place at WindReach Bermuda.
The students had the tasks of clearing weeds, watering and creating a mandala garden. The community project aligns nicely with ACE's corporate philanthropy. The environment is a priority and ACE believes in engaging its students in environmental efforts.
"I am pleased with how well the program went which was evident in the project the students presented at the closing ceremony. The ACE Select interns did a great job in and out of the office. They worked hard to develop the necessary skills to begin a career in the insurance industry, whilst also learning to serve the community in which they live by fulfilling ACE's Green mission", stated Rees Fletcher – Division President, ACE Bermuda.
On August 7th the six ACE Select students presented their end of summer project to management. The project demonstrated the students understanding of the insurance business model in Bermuda. The final project reflected how much the students have absorbed from their mentors and other business leaders at ACE and in the insurance industry.
"The ACE Select internship has been a full immersion into the underwriting process. We get to work on accounts side-by-side with the underwriters, but also get a broader view of each department's business model and culture by rotating between the product lines. I have really enjoyed that our mentors teach us as much as we can absorb without watering down the material to give us a challenge and sense of responsibility. In the last few weeks we had more time to collaborate on our group project. It was a great opportunity to work on the strategic level and choose the direction of our own research," said Julia Dunne, ACE Select Intern.
The six students who participated in the 2014 ACE Select internship were:
Lydia Barit
Taré Brangman
Amanda Brown
Julia Dunne
Jack Keyes
Denzel Simons
The two students chosen from the 2013 group to work in a specific support unit were:
Dominique Richardson
Richard Voaden
Read More About