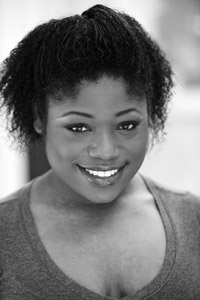 Bermuda's Candace Furbert — a former winner of the Bermuda Teen Idol — is making her mark on stage in the United Kingdom in a live production of popular film series Shrek, with one reviewer saying that she is a "mega star in the making with a voice of pure diamonds.
ThePublicReviews.com said, "After a wickedly triumphant run of a previous west end musical, Leeds Grand leaves down the green carpet to welcome in Shrek The Musical on the first leg of its first UK tour.
"After the fairy tale folk of Dulac get evicted to his swamp, Shrek, aided and hindered by Donkey, heads off to rescue a princess from her dragon-guarded tower in order to hand her over to the short-statured Lord Farquaad, so he will hand over the deed to Shrek's beloved swamp. Lord Farquaad wants to marry the princess so he can become a King.
"There are two stand out performances in this brilliant show. Gerard Carey as Lord Farquaad is hilarious. How his knees will survive this tour is not clear, but he can share tips with the original actor, Nigel Harman, who is directing this version on the road.
"Playing him as a camp Richard III type in yellow tights, he steals the show. Managing to high kick his tiny legs, over compensating for the fact his dad was a grumpy diamond miner who abandoned him in the forest to fend for himself.
"The other star of the show is Dragon, which has a War Horse feel of puppetry about it, as you don't notice the puppeteers. Candace Furbert, who voices Dragon, provides the most amazing vocals, and is a mega star in the making with a voice of pure diamonds."
In an interview with the London Office, Ms. Furbert said her biggest role models in theatre are NiShanthi Bailey and Patricia Nesbitt, who are both well known on the island for their work in the theatre.
"I've always admired the way they work and how much they put into it for their performances. They are two outstanding and phenomenal role models in our community when it comes to theatre," said Ms. Furbert.
Asked what advice she would give to aspiring entertainers, in Bermuda and the UK, she said: "Never lose who you are and where you come from and always strive to be better than you were the day before.
"It's now our time to let the world know Bermudians are here, and we have loads to offer the world. Also I believe that we all have the opportunity to become stars but it's up to us how bright we shine.
"Never give up even when you feel it'll be easier that way. As what we Berkeleyites would say Respice'Finem – Keep the end in view."
Read More About
Category: All, Entertainment, News