Vegetation coming into contact with power lines is the primary cause of storm-related outages, and BELCO is encouraging homeowners to address overgrown vegetation on their property, trimming trees and other vegetation at least 10 feet away from power lines.
"All such work should be carried out in a safe manner," said a spokesperson. "If vegetation is dangerously close to power lines, please contact BELCO to arrange for power to be interrupted while work is carried out.
"Arrangements for power interruption must be made at least three weeks in advance, so that neighbors can be advised of the scheduled interruption. Please contact BELCO at 296-3408 to arrange for landscaping-related power interruption.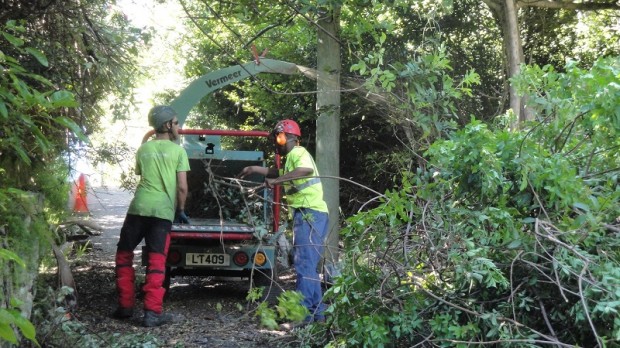 "BELCO works continually to manage vegetation along its main circuits, employing the services of arborists Brown and Company, owned by Martin Brown. Brown and Company is certified by the International Society of Arborculture, and is a Tree Care Industry of America accredited contractor. The arborists have had electrical hazard training to carry out work using industry best practices and equipment to perform work safely.
"For the next month or so, Brown and Company will be working along South Road in Warwick, covering an area from The Breakers to Southlands, and will then move to the Rural Hill area of Paget. Work that affects private property will be done in consultation with property owners.
"The arborists will carry out this work in the same manner applied over the past three years, during an extensive, successful vegetation management pilot project in Somerset. They will clear vegetation at least 10 feet away from power lines, and will use directional and species-specific pruning techniques to clear additional vegetation so that it does not interfere with power lines, as it grows over the next two to three years; this also ensures that they will only need to return to the area for routine maintenance during that period.
"At the same time, Brown and Company will remove invasive plant species, including casurina, Brazilian pepper, Chinese fan palm and fiddlewood, replanting where possible with appropriate trees and shrubs.
"When many years of growth are removed, the landscape will look very different; pruning and removing invasive species is beneficial to the environment. Brown and Company are pruning in a manner that ensures healthy, controlled growth over the next several years."
Read More About
Category: All, Environment