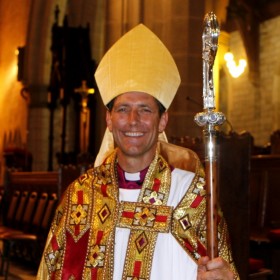 The Bishop of Bermuda The Rt Reverend Nicholas Dill has extended his prayers and thoughts to the people of Bermuda as we get ready for Hurricane Gonzalo to pass over us.
Bishop Dill said, "To all the people of Bermuda, as you gather in your homes tonight, I want to invite you to join hands in praying for one another, for peace and safety that Almighty God would in his mercy spare us, yet.
"Pray that the one who calmed the storm on the Sea of Galilee would divert this storm away from our shores. Pray for those at sea, the homeless, those in places of vulnerability, those who live alone. We ask God's mercy to bless all who care, protect and provide.
"The Book of James tells us that Elijah was a man like us, and he prayed fervently that it would not rain,and he prayed again that the rain would come. Join me in praying fervently that Hurricane Gonzalvo would pass us by, that we would come through this storm as one community, praising and thanking God for his deliverance.
"Let us pray together
"Our Father, who art in heaven, hallowed be Thy name. Thy kingdom come, Thy will be done on earth, as it in heaven. Give us this day our daily bread forgive us our trespasses we forgive those who trespass against us. Lead us not into temptation, but deliver us from evil. For This it's e kingdom, the power and the glory, forever and ever. Amen"
"Now I lay me down to sleep, I pray The Lord my soul to keep. May angels watch me through the night, and lead me towards the morning light. Amen"
"God is our strength and refuge. A very present help in times of trouble therefore we will not fear, though the earth gives way, though the mountains be moved to the heart of the sea, though it's waters roar and foam, though the mountains tremble at its swelling…….. Be still and know that I am God. I will be exalted among the nations, I will be exalted in the earth. The Lord of hosts is with us. The God of Jacob is our fortress" (Psalm 46)
"May the peace of God which passes understanding, keep your hearts and minds in the knowledge and love of God and of his Son Jesus Christ, our Lord. And may the blessing of God Almighty, Father, Son and Holy Spirit be with us all, now and ever more, Amen.
"With love Bishop Nick on behalf of the Anglican Church of Bermuda."
Read More About