Home-Grown Alternatives 2014 is getting set for a November 22 event, with a collaborative shopping experience aimed at providing goods with a focus on quality Bermuda-made arts and crafts.
The shopping event will be held from 10.00am through 4.00pm at the St. Paul's Christian Education Center in Paget.
The event will feature works from a number of Bermuda craftspeople, with the promotional flyer saying, "Adrienne Cotterill will feature unique Bermuda sand lockets – Bermuda memories encapsulated in the natural beauty of turtles, tree frogs, sail boats, crabs, and more.
"Almuriel Simons-Busby and Sylvia Robinson will offer home-made chocolate and candy, including chocolate peanut clusters, coconut cakes, crochet throws, and more.
"Beverly Harvey will feature hand-made, embellished note cards, while Burton Jones of Drawbridge Industries will offer Bermuda cedar products, cedar aromatherapy, and more.
"Carolyn Telford will provide semi-precious and beaded jewelry, Charmaine and Jerry Friday will offer decorated tiles, while Christine Wellman will showcase wheel-thrown, hand-decorated mugs, bowls and hand-made ceramic tiles, and Signature Collection pieces."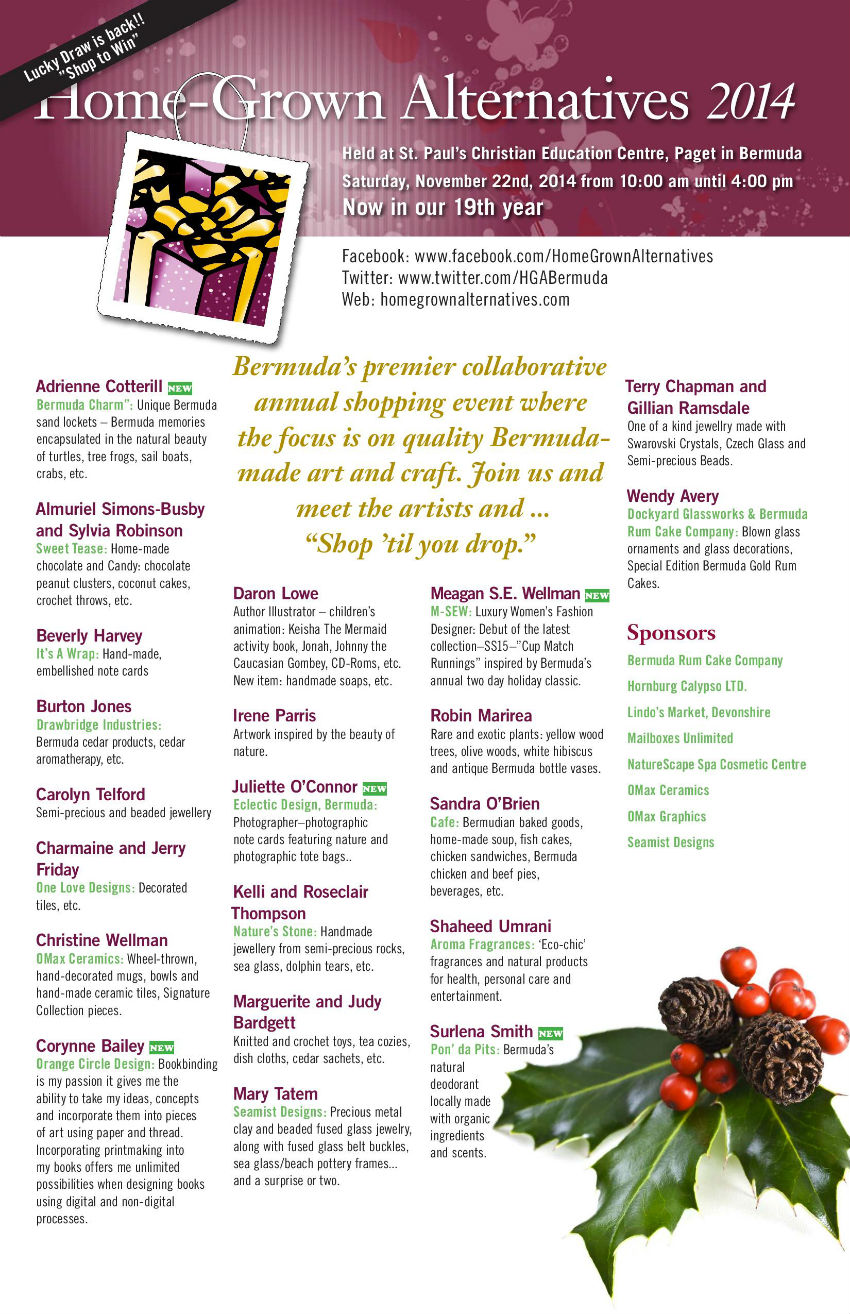 "Daron Lowe, author and illustrator, will be on hand to feature children's animation and more, while Irene Parris will showcase her artwork inspired by the beauty of nature. Juliette O'Connor will offer photographic note cards featuring nature and photographic tote bags, while Kelli and Roseclair Thompson will provide handmade jewelry from semi-precious rocks, sea glass, dolphin tears, and more.
"Marguerite and Judy Bardgett will showcase their knitted and crochet toys, tea cozies, dish cloths, cedar sachets, and more, Mary Tatem will offer products made of precious metal clay and headed fused glass belt buckles, and Meagan S.E. Wellman will debut her latest fashion collection, called SSS15.
"Robin Marirea will bring rare and exotic plants, including yellow wood trees, olive woods, white hibiscus and antique Bermuda bottle vases, while Sandras O'Brien will offer Bermudian baked goods, home-made soup, fish cakes, chicken sandwiches, Bermuda chicken and beef pies, beverages, and more.
"Terry Chapman and Gillian Ramsdale will showcase their one of a kind jewelry made with Swarovski Crystals, Szech Glass and Semi-precious Beads, while Wendy Avery will offer blown glass ornaments and glass decorations, along with special edition Bermuda Gold Rum Cakes.
"Home-Grown Alternatives is sponsored by Bermuda Rum Cake Company, Hornbug Calypso LTD, Lindo's Market, Devonshire, Mailboxes Unlimited, NatureScape Spa Cosmetic Centre, OMax Ceramics, OMax Graphics, and Seamist Designs."
For more information about the event, visit its website and Facebook page.
Read More About
Category: All, Business, Entertainment