Bermuda-based PartnerRe Ltd. – which recently announced plans to merge with AXIS – announced that during the January 1, 2015 treaty renewal season it expects to write and bind approximately $2.7 billion of Non-Life treaty premium. On a constant foreign exchange basis, this represents a decrease of 1% from the renewable premium base.
"The Company renews approximately 70% percent of its total annual Non-Life treaty business on January 1. The remainder is comprised of treaty business that renews at other times during the year. In addition to treaty business, the Company writes approximately $400 million of facultative business which renews through-out the year," the company said.
PartnerRe Interim Chief Executive Officer David Zwiener said, "Our teams did an excellent job of maintaining PartnerRe's position at the January 1 renewal. Market conditions were extraordinarily competitive in many lines, particularly around terms and conditions, and there were several instances where we didn't renew business that no longer met our risk-adjusted return requirements.
"Nevertheless – and in spite of the very difficult operating environment – our teams still managed to find attractive new business to hold our overall renewal premium relatively steady. This clearly reflects the strength of our franchise and the quality of our relationships with clients and brokers."
The table below outlines PartnerRe's January 1, 2015 Non-Life treaty renewals.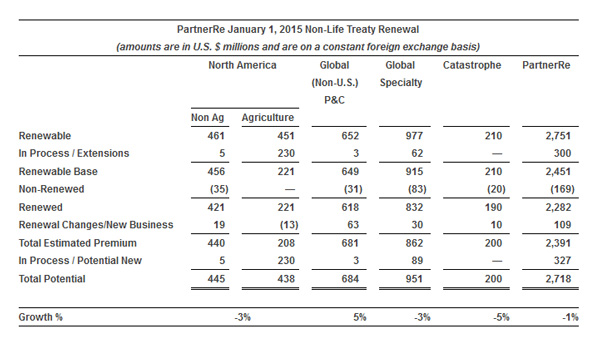 Note: The January 1, 2015 Non-Life treaty renewal premium shown in the above table is not representative of the Company's gross premium written for the first quarter of 2015 given most of this renewal business is written on a proportional basis with risks attaching to these treaties throughout 2015. The most significant exception to this is the renewal business written in the Catastrophe sub-segment, which is predominantly written on a non-proportional basis.
PartnerRe is scheduled to release fourth quarter and full year 2014 results after the close of trading on Wednesday, February 4, 2015.
Read More About