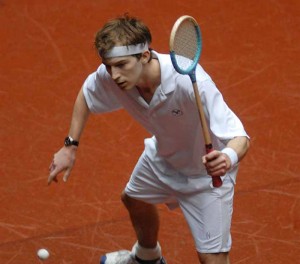 Bermuda's James Stout, the reigning world, U.S. and British racquets champion, weary after a hectic four-day tournament schedule, retained his U.S. singles title on Sunday morning [Mar 8].
He defeated world number two and second seed, Will Hopton, in Chicago, by three games to one, in a match which lasted an hour and a half. This marked Stout's sixth U.S. Open singles title, having won it in 2008, 2010 and each year since 2012.
Having won the first game comfortably 15-4, Stout lost the second game 15-10 as his opponent made a greater effort to seize the initiative and attack at every opportunity. However, in the third game Stout resumed control.
Although it looked as though Hopton would mount a comeback in the third game as he moved from 3-10 down to 5-10, Stout took the game 15-5 after only 17 minutes. As Hopton is based at the Chicago club this quietened the partisan gallery.
Stout got off to a strong start in the fourth game, leading 4-0, and 7-1 before Hopton got into his stride. Hopton recovered to 3-9 down, and then 6-12 down, at which point he faulted on his serve. Stout used this opportunity to finish the game with a score of 15-6, and claim the match. Despite Hopton's attempts to pick up the pace and attack, generally Stout was able to cope with whatever Hopton threw at him.
Stout's languid and effortless movement around the court and consistent ability to play winning drives from the centre of the court into the back corners made it look as if he did not feel threatened by Hopton's challenge. However, this was the first time Hopton has managed to take a game off him in tournament play.
Ninety minutes after the singles final finished Stout and his partner Jonathan Larken, world number nine, the fourth seeds, were on court to contest the doubles final against the third seeds, Alex Titchener-Barrett, world number three, and Christian Portz, world number seven.
Given that Stout and Larken are a new pairing, whereas their opponents, the reigning British Open doubles champions, will be challenging for the world doubles title against James Coyne and Will Hopton in May, the odds favoured the third-seeded pair.
This appeared to be confirmed in the first game which Titchener-Barrett and Portz comfortably won 15-6. However, after the break, Stout and Larken returned with a new game plan which they stuck to ruthlessly, leveling the match with a 15-0 score line. They continued strongly in the third game, and built up a 9-2 lead. At this point Larken's mobility was hampered by calf problems.
Titchener-Barrett and Portz's confidence grew and they recovered to establish a lead of 13-11. Stout and Larken leveled the score at 13-all and their opponents chose 'set three', to play to 16 points. At 15-13 it looked as though Stout and Larken were home free, but they lost service and their opponents leveled the score at 15-all to serve for the game.
Luckily, after Titchener-Barrett and Portz were put out without scoring, Stout and Larken made no mistake in getting the one point they needed to claim the game 16-15. The fourth game was the opposite of the third, with Titchener-Barrett and Portz building an apparently unassailable lead of 10-1, mainly on the back of some desultory shot-making and tired-looking errors from Stout.
At this point Stout and Larken decided to make a last stand to avoid having to play a fifth game. In one hand they went from 10-1 down to lead 11-10, with some inspired services, attacking play and kill shots. Although they lost service at this point, they put out their opponents without conceding any further points, and then closed out the match by winning the fourth game 15-10. This was a remarkable recovery by the unfavoured pair. It marked Stout's third U.S. Open doubles title.
Sunday's play came on the back of a busy Saturday which saw Stout and Larken beat fifth seeds Tom Billings and Richard Owen 3-1 at lunchtime. They beat the current world doubles champions, James Coyne and Will Hopton 3-2 in a gripping two-hour semi-final in the early evening. In-between those two matches Stout beat fifth seed James Coyne 3-0 [15-10, 15-0, 15-1] in the semi-finals of the singles event.
Stout is based at the Racquet and Tennis Club, Manhattan.
Read More About