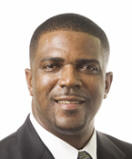 [Updated] "The news surrounding job losses by social workers is deeply concerning and reinforces the belief among countless Bermudians, that the OBA is taking Bermuda in the wrong direction," said Shadow Minister of Youth, Sports, Community & Culture Michael Weeks.
Mr Weeks added, "Under the OBA, Bermudian job losses have risen and businesses have continued to shut down. Combined with stagnating or falling wages and skyrocketing prices on food, electricity and other essentials, cutting more jobs especially among social workers is incompetent at best and foolhardy at worst.
"At this perilous time, social workers play a critical role in helping to support Bermudian families in need. As conditions worsen under the OBA, social workers are needed more than ever to help our families and stabilize our society.
"The numbers of Bermudians who have fallen below the poverty line or who are out of work is simply staggering. Social workers' caseloads are already barely manageable.
"Cutting social workers means that those workers who remain may be overworked, stressed and despite their best efforts simply unable to keep up with the increasing demands placed on them. This means the quality of service may diminish and their ability to assist in the maintenance of family and social cohesion may also be diminished.
"This is simply the wrong move at the wrong time. We urge the OBA to reconsider this decision," added Mr Weeks.
Bernews asked the Ministry on Tuesday about unofficial reports indicating there may be job losses, and we will update with their response if able.
Update 6.22pm: In response a Cabinet Office spokesperson said, "The Government can confirm that a hiring freeze with exemptions is in effect which means that only those posts deemed most critical to the delivery of public services will be filled. In addition, the Government can confirm that:
temporary relief workers, i.e. those persons who are filling vacant posts on a temporary basis will conclude service when their temporary contracts reach term.
temporary additional workers, i.e. those persons who are filling temporary additional posts, that are not substantive posts but were added to the organization on a temporary basis, will conclude service when their temporary contracts reach term.
"Wherein any of the temporary posts are deemed critical to the delivery of public services these contracts may be extended.
"The Government has also re-introduced its Voluntary Early Retirement Incentive Programme for officers who have attained the age of fifty-five to sixty-four years of age or who have completed 25 years of service for those in the Uniform Services.
"Senior Technical Officers are now working with their management teams to determine innovative solutions to ensure that public services continue to be delivered. In instances where staff reduction impacts service delivery the public will be advised accordingly.
"The Government will continue to work with Union partners to ensure that the resultant job enrichment and job enlargement opportunities are made available to public officers in a manner that is fair and in the best interest of all parties.
"As a final note, a hiring freeze is one of several measures considered a reasonable means of realizing cost savings as agreed with the leadership of the Bermuda Trade Union Congress [BTUC]."
Read More About