John Holdipp III held what he called a "Summit Of Understanding" at the BIU building last night [Apr 8], inviting people to "come and hear of the One Bermuda Alliance party's launch of economic turmoil."
The meeting saw a limited turnout, with nine attendees in total through the course of the evening. Speaking after the meeting, Mr. Holdipp said, "Ladies and gentlemen, I just want to tell you, you missed something. You truly missed something.
"As I see it, this was a 'Summit of Understanding' and the wonderful thing about it, we are a small group of people, where we sat down and began to analyze who we are, where we are, and where we came from."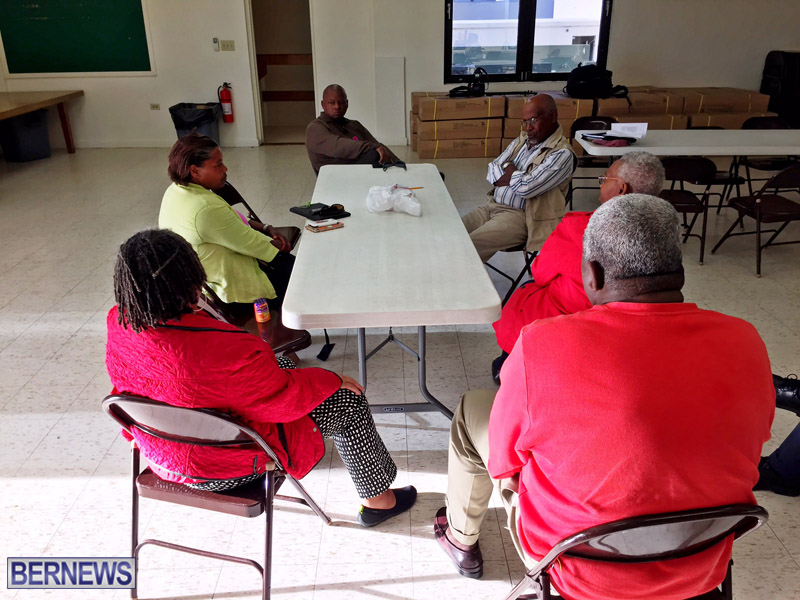 "You missed something. But we have another meeting. Hopefully you'll come. It's not about me, it's not about my opinion. It's about us as Bermudians. And it's not a racial thing; we all need to come together and figure out how we can move forward because the world is changing," added Mr. Holdipp.
"There is a real transition in term of migration going on around the world – not just here, around the world.
"So, I invite you, next time you hear about us getting together, don't look at me, look at you, look in the mirror, decide what is it you want to see Bermuda achieve.
"Where do you want it to go, to grow and go, so that your children and your children's children can have something positive in their life, can have stability? So all I ask is next time, come on by."
Mr. Holdipp speaking after the "Summit Of Understanding"
Mr. Holdipp is an outspoken critic of certain policies, holding his own protests and recently filing a writ in the Supreme Court against Minister of Finance Bob Richards, Home Affairs Minister Michael Fahy, Premier Michael Dunkley, and the "Elected Members of the OBA Government."
Read More About