After years in the making, the Public Access to Information [PATI] Act comes into effect today [April 1], allowing members of the public to make requests for information from the Government.
Bermuda's first Information Commissioner, Gitanjali S. Gutierrez previously said, "In many countries throughout the world, the public's right to access to information held by the government is a critical part of a robust democracy – information has been called the 'currency' of a democracy.
"When the public can get information as a matter of right, rather than as a matter of discretion, it allows everyone to engage in public policy debates and participate in a democracy in an informed manner. This ultimately leads to better decision making, accountability, and policies."
Commissioner Gutierrez added, "Moving into a system where the public has a right to access records is a significant culture shift within public authorities and within Bermuda."
"The Information Commissioner's Office plays a critical role in the PATI Act's implementation, especially with respect to hearing appeals from requesters who are not happy with the response of a public authority.
"Because of this role, the Information Commissioner is an independent office, not subject to bias or influence by any political party or government. It is my pledge that the work of the Information Commissioner's Office will be driven by independence, integrity, and fairness."
Text extracted from the PATI Act outlining the costs: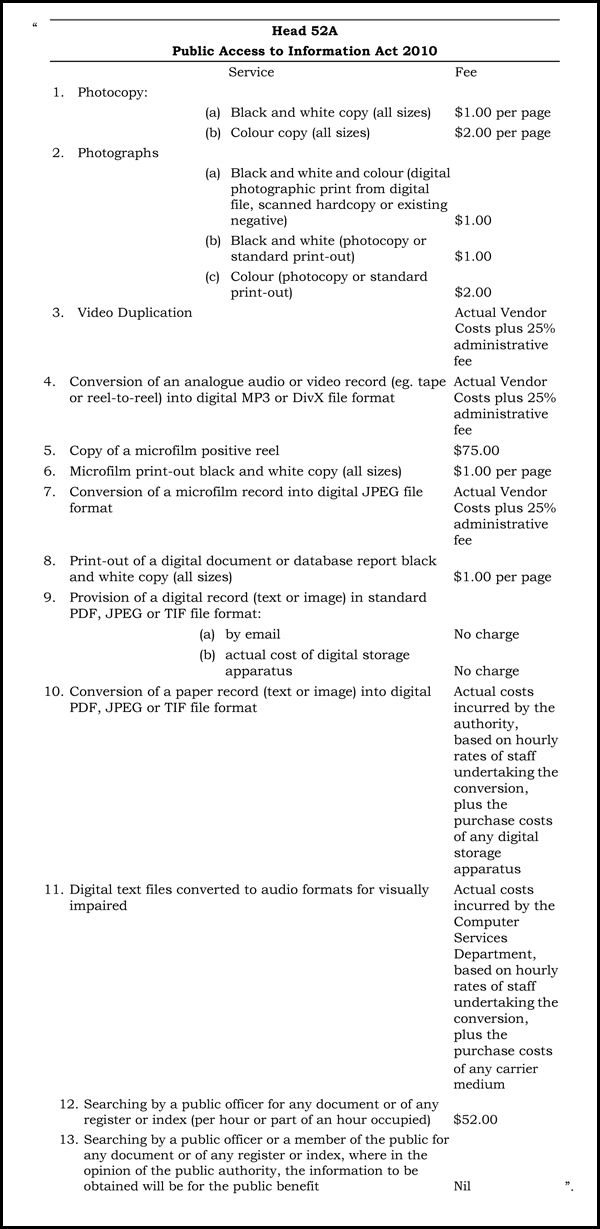 Jeremy Deacon, the Media Council of Bermuda executive officer, said: "The Public Access to Information law is not just a law that helps journalists.
"It is a law that helps every person in Bermuda get access to the information that affects them, personally, and it is a law that allows every person to hold Government and its quangos to account.
"I have heard comment that the 'word on the street' is quicker and just as accurate. I would beg to differ as this law deals in hard facts and documents that have not seen the light of day – but which should be exposed to the sunshine of scrutiny.
"I would urge people to use this law. I would also urge people not to abuse it, or they will risk losing this privilege," added Mr Deacon.
Speaking in advance of the debate last year on PATI, Premier Michael Dunkley said, "The passage of PATI will allow Bermuda to join the front rank of the world's democracies; so all Bermudians can take pride in the fact that we are taking this great step forward.
"The Act and its implementation have been a long time coming, and perhaps that is a reflection of how difficult PATI has been to create. But I am very pleased that it has fallen to this Government to bring the Act and its regulations into operation.
"At the heart of PATI is acknowledgement that the most important person in the political system is the voter. In a truly democratic system of government, voters are the brick that form the foundation of the system. Governing begins with them and ends with them.
"It's easy to think that PATI simply means that a bureaucrat will get a request for a document, make a copy of it and send it off to whoever asked for it. But it's much more than that.
"It involves public authorities from top to bottom changing their mindset about the use of information. What used to be squirrelled away in a file somewhere, maybe never to be seen again, is, with some legislated exceptions, going to be available to anyone who wants it," added the Premier.
The Public Access to Information Regulations 2014 follows below [PDF here]
Read More About