The Parliamentary Standing Committee on the Public Accounts conducted a Public Hearing on Thursday [April 30] in reference to the Port Royal Golf Course renovation project.
The management of the project was criticised in the Auditor General's report which said the project incurred costs of more than $24 million during 2007 to 2011 – for a project the Auditor said was initially budgeted at $4.5 million in November 2006.
The report said, "Between 2007 and 2011, the Government of Bermuda approved a $24.5 million refurbishment of the golf course, known as the Port Royal Golf Course Improvements Capital Development Project.
"In November 2006, the Board of Trustees requested $7.7 million in funding from the Government for refurbishments of all three golf courses [$4.5 million for Port Royal Golf Course, $3.0 million for Ocean View and $0.2 million for St. George's]. Government approved only $3.0 million at that time.
"By January 2007, the scope had changed to a refurbishment of Port Royal Golf Course only and the Board of Trustees developed a preliminary budget of $6.5 million.
"In November 2007, the Government approved a $13.6 million expanded capital redevelopment project for Port Royal Golf Course. The scope of the Project then included a reverse osmosis plant and irrigation system, lengthening of the course, rebuilding of tees and greens, remodeling bunkers, re-grassing fairways, constructing a new maintenance building, and purchasing new maintenance equipment – sufficient that the course would meet Professional Golfers of America [PGA] tour standards."
Chart extracted from the Auditor's report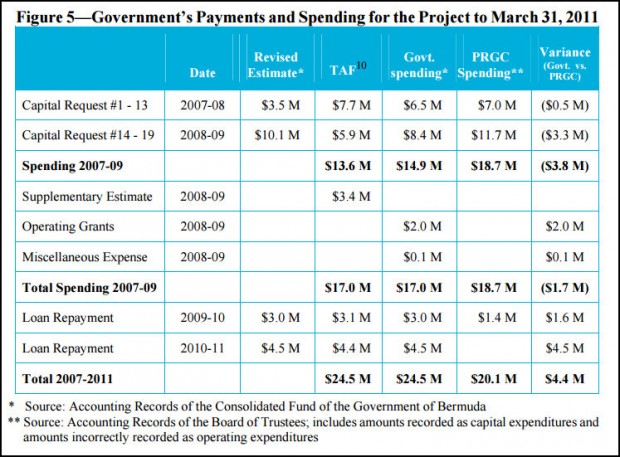 The report also spoke on project delays, saying: "The original time frame for construction was a 12-month period commencing January 1, 2008. However, the course was not fully reopened until August 2009 [a 19-month period]. Delays in construction resulted in a significant loss of revenue estimated to be $1.9 million based on historical Port Royal Golf Course revenues averaging $3.2 million per year."
A statement from the Auditor General's office when the report was released said the Special Report "speaks of cost overruns, a lack of proper oversight and monitoring by the Government" adding that the Auditor General "cannot conclude whether all the funds received by the Board of Trustees were used for the intended purposes or were fully accounted for due to inadequate accounting records."
The Committee who held yesterday's hearing consists of Chairman David Burt [PLP], Lovitta Foggo [PLP], Cole Simons [OBA], Glen Smith [OBA], Jeff Sousa [OBA], Wayne Furbert [PLP] and Susan Jackson [OBA].
Both Wendell Brown and Bob Wilson, who served on the Port Royal Board of Trustees, appeared at yesterday's hearing.
Quite a few questions were asked about the services Island Construction supplied, such as provision of sand, and whether multiple companies were contacted to ensure best pricing and services were received.
Board member Jeff Sousa, who owns Sousa's Landscaping, said that his company was not contacted about possibly providing services such as irrigation, saying "I just want to make it clear, we were not contacted."
As the hearing wrapped up some of the PAC members made comments; with Jeff Sousa saying, "Personally I feel that the fact that many phases of the project did not go out to tender – excavation, irrigation, the supply of sand – that the people of Bermuda did not get value for money," while Lovitta Foggo said "Going forward, Bermuda will likely benefit from having a first class professional golf course."
The Auditor General's Special Report on the Port Royal Golf Course follows below  [PDF here]:
Read More About