Hearts were touched with fond memories revisited on June 16 as Clearwater Middle School kicked off its first alumni week by honouring former principal Dr. Charlotte Ming in a "fitting tribute to such a phenomenal educational leader, teacher, mother and friend."
Former students, former colleagues, and family members of Dr. Ming joined the staff and students of Clearwater Middle School in an assembly that honoured the life of selflessness and stellar leadership shown by Dr. Ming.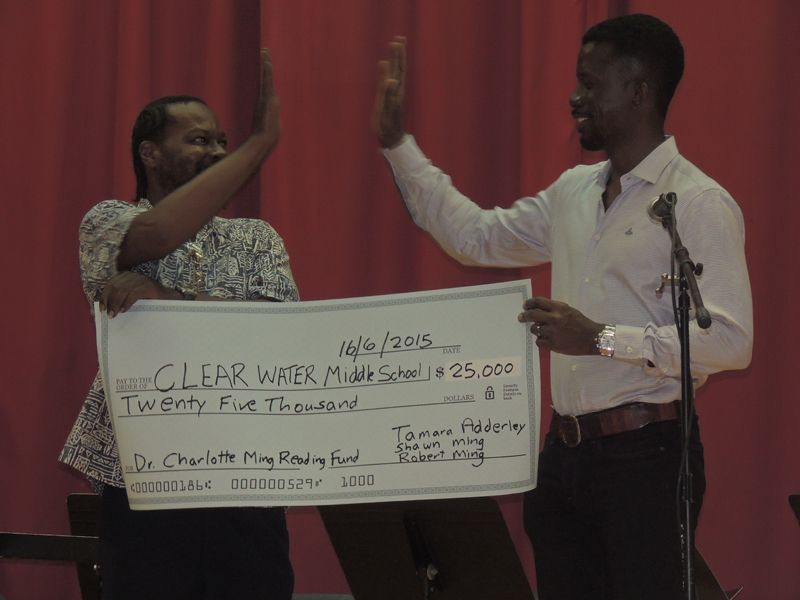 A spokesperson said, "We felt that honouring Dr. Ming was only fitting as she was the first principal of Clearwater when it became a middle school and her impression remains on the school to this day."
Principal Levyette Robinson said, "We should continue to build a sense of community around our School. We wanted to bring our students home and have them share their stories with our impressionable young people. Honouring Dr. Ming was something the school had wanted to do and it seemed a natural fit to do the celebration during the alumni week."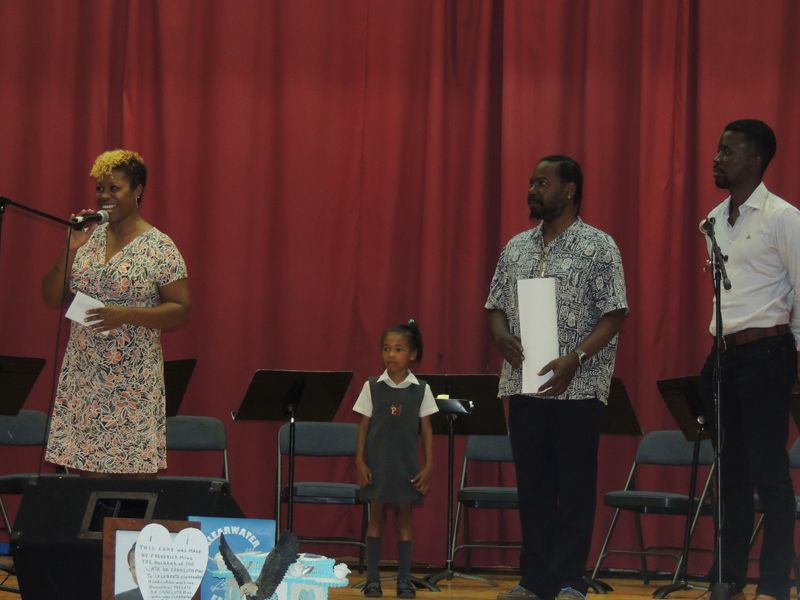 The tribute began with various colleagues expressing their fond memories, laced with expressions of thankfulness, honoured and blessed to be under the leadership of Dr. Ming.
Dr. Ming, who passed in December 2013, was the first principal of Clearwater Middle school when middle schools came into existence and "hand-picked" her staff.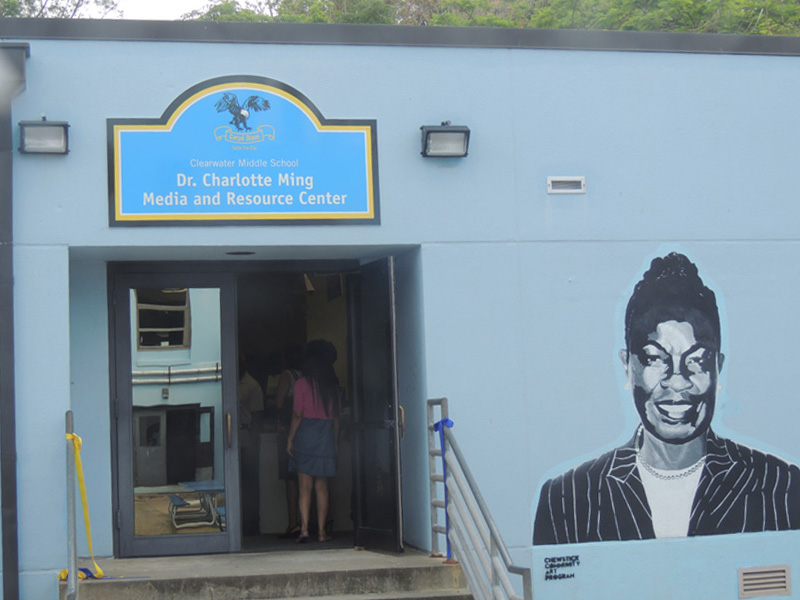 Always insisting on giving her best to her staff and students alike, Dr. Ming was an educator "par excellence", a firm hand, with a loving heart.
A passionate learner herself, committed to developing herself, Dr. Ming believed that what her students were to be, they were now becoming and each tribute clearly demonstrated this fact.
During the assembly, her children, Tamara Adderley, Robert and Shawn Ming, expressed their love and appreciation for their mother and of the tribute. Continuing in Dr. Ming's ever giving ways, they then presented $25,000 to the school.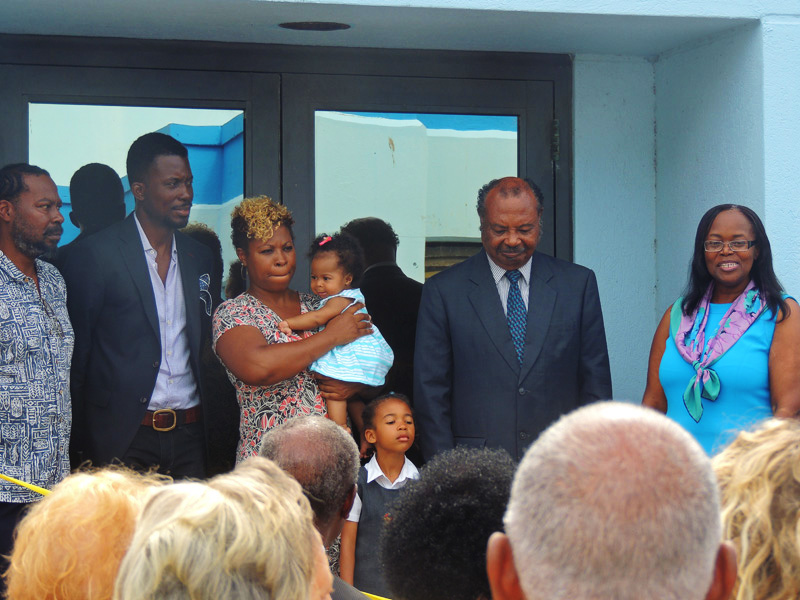 "These funds can be utilized to purchase books as my mom loved to read, and would even wake up at 4a.m. to continue a book that she was reading," said daughter Tamara Adderley.
"She wanted to give so much more to this school, and we feel that this is the least that we can do to honour her memory and in turn continue her legacy."
Permanent Secretary for Education Valerie Robinson-James with Dr. Ming's son Shawn and his uncle Randolph Furbert at the reception held in the Resource Center: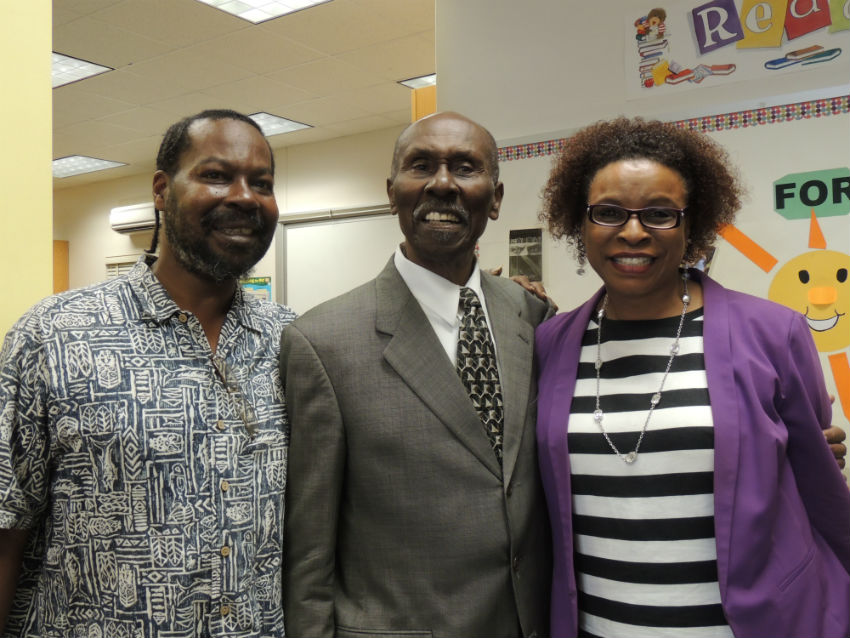 The ceremony culminated with a ribbon cutting ceremony at the dedication of the Dr. Charlotte Ming Media and Resource Center. Family members, friends and colleagues of Dr. Ming joined with the school and applauded as her husband, Chef Fred Ming.
A mural depicting Dr. Ming is on the side of the media center and was painted under the collaboration of the Chewstick foundation, along with Clearwater Middle school art teacher Mrs. Ming Bean, and other staff members.
Once the ribbon was cut, the gathering continued inside the newly titled media center where a portrait was presented, painted by Mrs. Angela Ming-Bean.
Shawn and Tamara with the portrait of their mother, which will be hung in the center: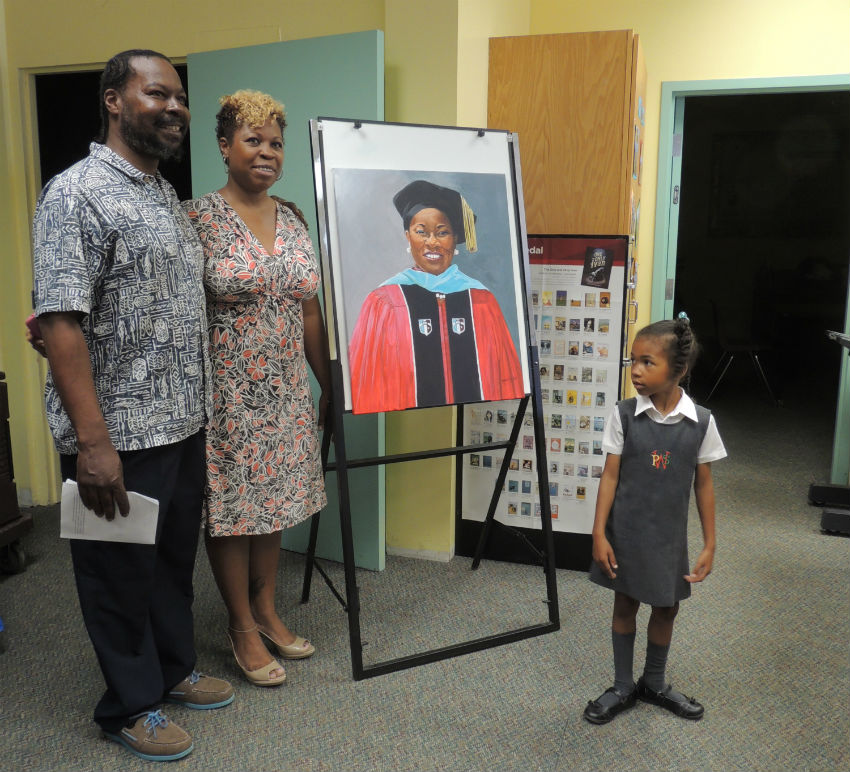 Mrs. Ming-Bean said, "It was an honour and really inspirational to paint my former principal, it meant a lot to me to paint this; this portrait was really special to me as my hand was directed by the memories and love that I held for her."

Read More About