This year's Bermuda Billfish Release Cup brought two new traditions to this modest entry fee charity event that provides funding for the Bermuda Sloop Foundation's Adam Goodwin Marine Mentor Scholarship fund.
"Teams fishing in the Release Cup enjoyed a sail on the Spirit of Bermuda from Hamilton Princess Marina to the Royal Naval Dockyard to attend the final registration at the Bermuda Fun Golf Club. Upon arrival the participants received Dark & Stormy samples from Gosling's Rum and headed out to play 9 holes in hopes of winning the top captain, mate, owner and overall best putter award," their website said.
"In the inaugural year Captain Danny Hearn on Black Check took top captain, Ryan Seguine on Just A Dog took top mate and Jimmy Whitley on Que Mas won top owner and overall top putter.
"Winners received custom-made glass putter head trophies made by Dockyard Glassworks. Following the golf the teams enjoyed a Bone Fish Bar & Grill BBQ dinner and attended the Captain's meeting.
"The BBRC is a tune up for the Triple Crown Championship that allows passing the rod and angler assistance if needed making it a perfect event for junior and less experienced anglers while raising needed funds the Bermuda Sloop Foundation.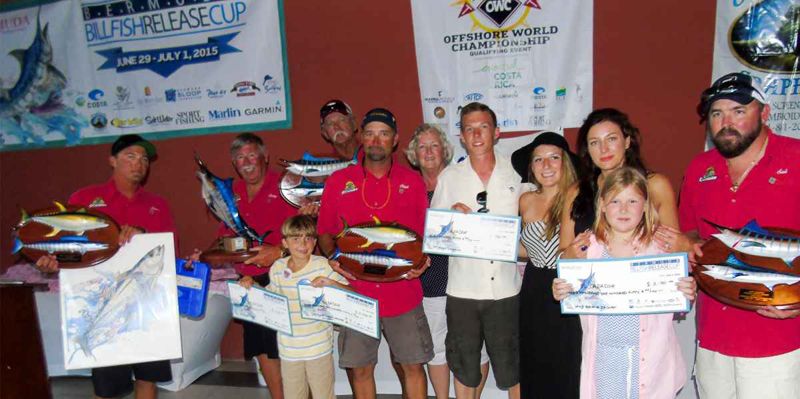 "The fishing had been very slow leading up to the Release Cup so the fishing could only get better which it did! Team El Cazador caught the first blue marlin of the tournament and added a white later in the day for angler and owner Bobby Ricks and Captain Mike Kennedy giving them the day One Release Jackpot.
"Team Mama Who owner and angler Elaine Jones also caught a blue and was the first sponsor of the IGFA Great Marlin Race Bermuda to tag a fish. Each PSAT tag deployed will remain on the fish for 240 days and then pop up to the surface to transmit the data. This is the first time the IGFA Great Marlin Race has come to Bermuda.
"Other teams scoring points on the first day included Que Mas junior angler William Whitley releasing a white, Blank Check angler Kevin Gaylord a blue and lady angler Wendy Farrens releasing a white on Just a Dog.
"On the second and final day of fishing team Great Escape found the honey hole catching the first blue for owner and angler Bob Henderson. They went on to add a white release and boated a 28.3-wahoo for the game fish category earning Great Escape third place team honors, day two release jackpot, third place overall release jackpot and second place gamefish for a total winnings of $5,600.
"Just a Dog lady angler Wendy Farrens with captain Mike Farrens added a blue release to finish in second place. They also won the second place overall release jackpot and top lady angler for Wendy winning $2,940. Top junior angler awards went to William Whitley on Que Mas.
"Team El Cazador was not able to add a billfish release points on the second day but their first day catch was enough to earn them the win, day one release jackpot and first place overall release jackpot. They did however catch a 101-pound yellowfin to win the gamefish division winning a total of $8,800 and an invitation to the Offshore World Championship.
"Team El Cazador also won the Garmin $5,000 bonus for having fixed mounted Garmin Electronics. All winners received beautiful King Sailfish Mounts trophies, Steve Goione Artwork, Costa Sunglasses and other great gifts.
"The awards banquet at the Bonefish Bar and Grill featured an incredible spread of ribs, brisket, wahoo, chicken, salads and desert. During the awards presentation Kristen Green, the first recipient off the Bermuda Sloop Foundation Adam Goodwin Mariner Mentor scholarship, spoke to the group thanking them for their support.
"Kristen has gone on to graduate from the prestigious Warsash Maritime academy specializing in navigation and has a bright future ahead. A big thank you to all of the participants and sponsors of the Bermuda Billfish Release Cup who have helped the tournament provided seven scholarships over the past seven years."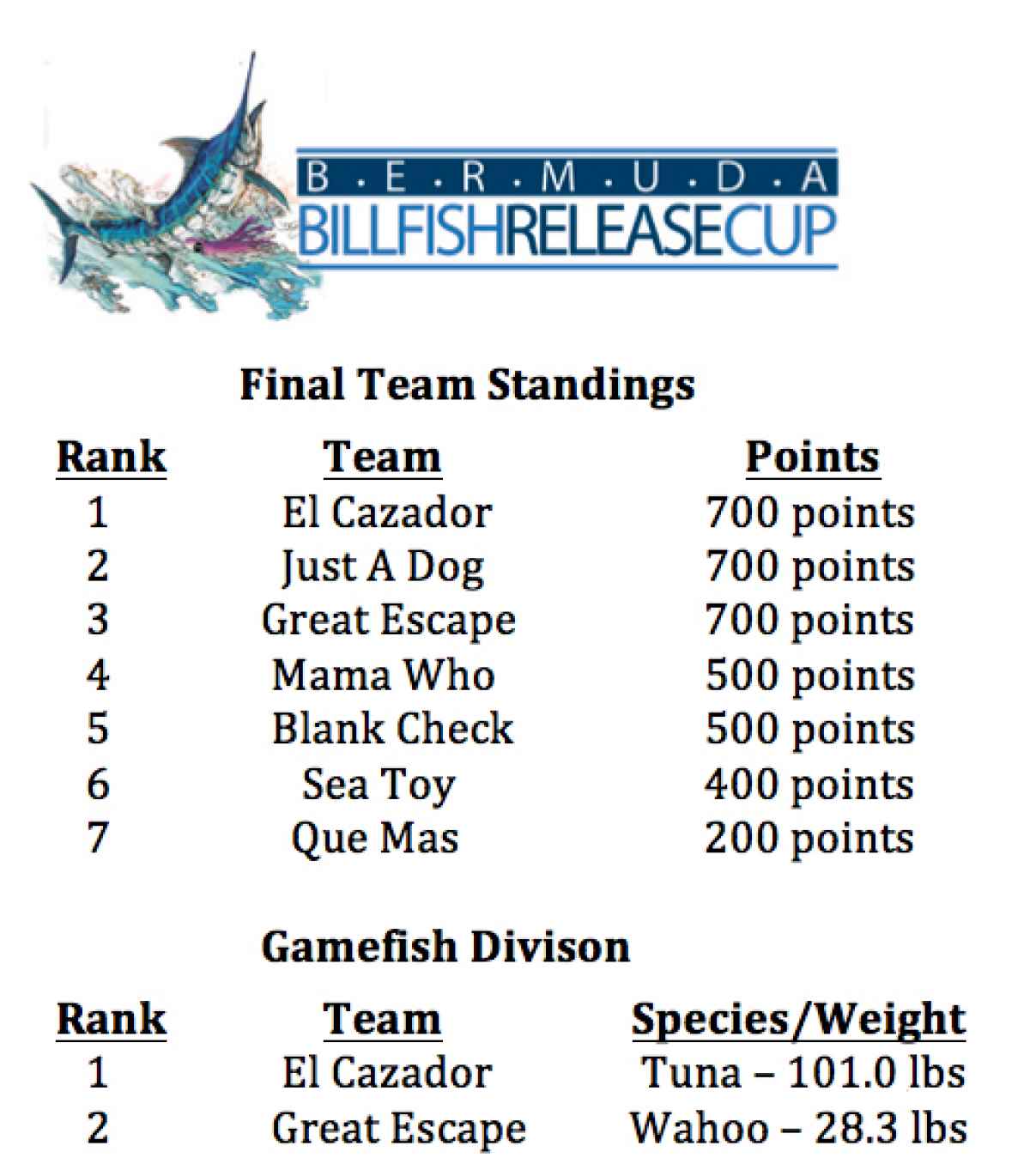 Read More About