[Updated] Following insults being levied at Bermuda by a foreign entertainer who is on the island to perform, numerous Bermudians launched a strong defence of the island, taking the entertainer to task across social media.
Jillionaire — who said Bermuda "smells like a dead whale" — is a member of Major Lazer who was on the island to perform at last night's [July 29] concert.
His social media update last night said, "Bermuda has been one of the worst travel experiences of the year – the kids at the airport got mad at me cuz I wasn't @walshyfire, the whole city smells like a dead whale and my cab driver [yes the promoter put me in a taxi] kidnapped me for an hour instead of taking me straight to the hotel."

He also posted another comment saying, "Bermuda Triangle is real! Can't wait to get out of this place."
This did not end well for the entertainer, who immediately came under fire from Bermudians on Facebook, Twitter and Instagram.
"No idea who you are. You are an idiot. Get off the rock," said one person, while another added, "Next flight out is early tomorrow. Please be on it."
"You have the nerve to insult probably one of the best places that you have ever had the privilege to visit but after your unbelievably rude comments I bet it will never happen again, " another response said.
"We are nice people but do not tolerate ungrateful rude people like you. Go back to the airport and back to where you came from."
"Not cool buddy!!! Was thinkin about going to the show but this changed my mind! Peace out!!! And who are you anyway," said another response.
"The whole island wants you gone," pointed out another Bermudian, while another logged on to the entertainer's profile to tell them we are the "wrong people to take a stab at" as "we defend ours to de fullest."
"We as Bermudians are kind and hospitable people," said another person. "Once you disrespect us then we turn from nice to angry real fast.
"1000 of real celebrities come here all the time and one thing they like is that we treat them like real people. This guy ain't even an A B C or D list celebrity and he expects special treatment or people to even know him."
Update: A quick look at the concert last night
At least a dozen people have pointed out they actually had not even heard of this entertainer before, and quite a few people said they felt it was extremely unprofessional for an entertainer to make such comments about a place he was invited to perform in.
Non-Bermudians have also chimed in as well, with one post from an American saying, "Wow from what I saw and heard you pissed off these Bermuda people pretty bad.
"I feel different about you now I wonder what you say about other places. I've seen you perform in places wayyyy worse off than Bermuda, Bermuda looks like a beautiful place. Pretty disappointed in you buddy. You're giving Major Lazer a bad name now."
Jillionaire appears to have backtracked some — he has deleted his original post on Instagram and also 'hidden' one post from his main Facebook feed — however as of this writing Bermudians continue to leave messages on his social media profiles.
Update 7.57am: Walshyfire and Diplo – the remaining members of the Major Lazer group — have taken a totally different tone.
Walshyfire posted on Instagram, saying: "Bermuda thanks so much for the love and support. Always an honor to perform for my island massive," while Diplo posted "I love Bermuda."
Update 8.59am: Jillionaire's Wikipedia page has been edited, with someone adding a sentence, which was subsequently edited out approximately 30 minutes later, although it is still accessible in the 'edit history' section.
The sentence added in said, "He also appears to be fond of insulting venues he plays, based on his commentary on Bermuda. Perhaps he is insecure about his status as a less than F-list celebrity, either way Jillionaire would seem to be a complete tool."
The Wikipedia edit, which has now been removed from his main page: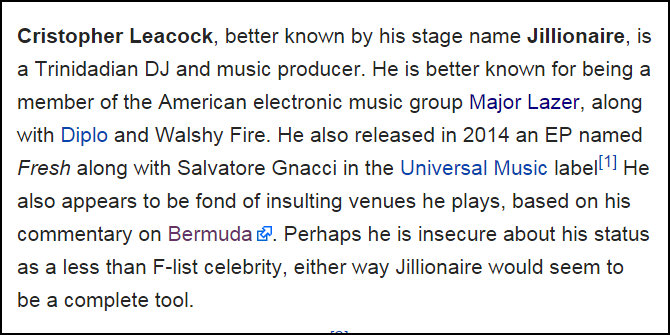 Update 10.53am: Jillionaire just updated his social media again, saying "Bermuda is way up…headed to the beach."
Update 12.12pm: His original comments show as being made 18 hours ago [around 6pm yesterday] and as of this writing, Bermudians are still expressing their displeasure with him on his social media pages.
However one of his bandmates has acknowledged he "made a mistake," with Diplo posting a message saying, "My Bermudians! If u don't know Chris, he is a very sarcastic a****** and he made a mistake. Please forgive because we all gave it 100 last night! My first time in Bermuda and it was lit. We love u guys this is no lie. But what I really want to know is St George's or Somerset? I'm heading to Cup Match now."
Read More About
Category: All, Entertainment, Music, News