The Bermuda Cricket Board [BCB] announced that BF&M have provided financial support to assist the BCB National U19 in their efforts to qualify for the ICC U19 World Cup to be held in Bangladesh next year.
The squad of 14 players and 4 stand-by players are currently attending a one week high performance camp at DRC.
BCB President, Lloyd Fray said: "I am very proud of the achievements, performances and excellent sportsmanship displayed by our National U18 players.
"We are fortunate to have excellent squad management that are fully abreast of the latest performance training techniques. I have every confidence that our young men will represent their country well on and off the field."
BF&M CEO John Wight, Delray Rawlins U19 Captain and Neil Speight BCB Executive Director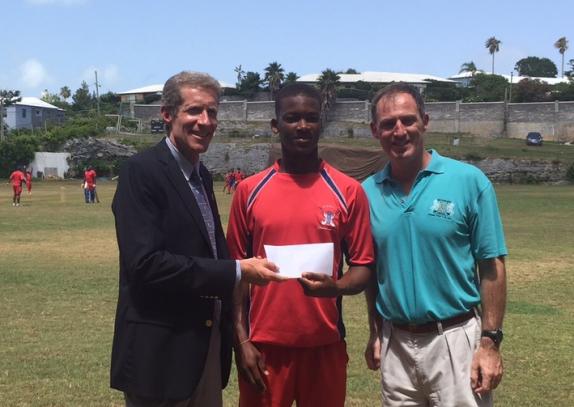 John Wight, President and CEO of BF&M said, "BF&M have enjoyed a long and rewarding partnership with the Bermuda Cricket Board.
"BF&M have been the official insurer for the BCB for over 10 years, BF&M have supported women's cricket and have been supporting the BCB youth programs for 8 years. In particular, BF&M support the U17 and U18 age groups, an age at which constructive fun activities are critical for young men.
"BF&M are proud to see the development of the 18 players that have been selected for the Bermuda squad for the U19 World Cup Qualifier. We are particularly pleased to be able to provide support for the week long training camp for our national team in preparation for this tournament, hosted in Bermuda next week.
"Congratulations to the BCB for providing a world class environment and preparation plan for our squad and particular congratulations and best wishes to all players in the matches ahead."

Read More About