The court case between Michael MacLean and the Government continued in commercial court  yesterday [July 21] in front of Justice Ian Kawaley, with both sides laying out their positions.
The commercial court room was quite full with those in attendance including both Attorney-General Trevor Moniz and Shadow Attorney-General Michael Scott, and there was also what appeared to be a number of law students present, with the case seeing two leading QCs in action, a less than usual occurrence in Bermuda.
Michael MacLean leaving court yesterday: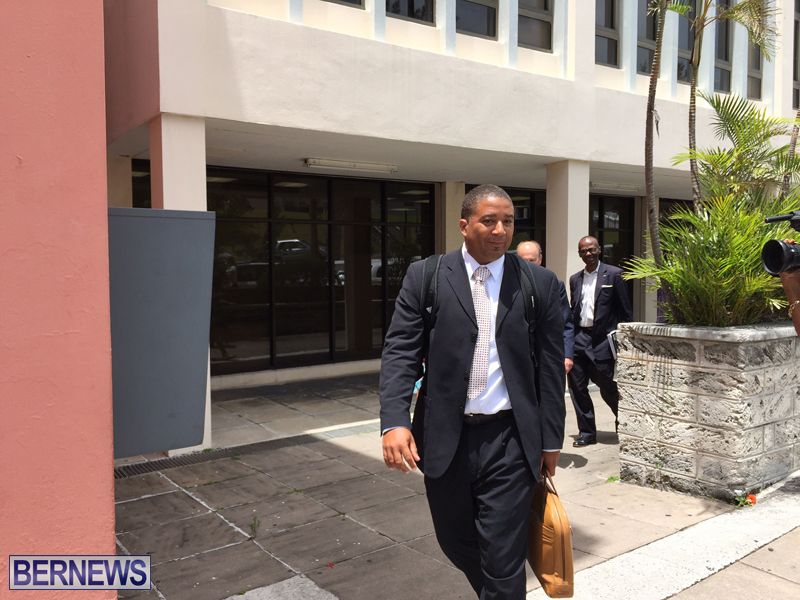 The day saw technical arguments made involving arbitration and Constitutional rights, and also discussion of using the waterfront for the America's Cup. Mr MacLean is being represented by Sir Jeffrey Jowell QC, while the Government is being represented by Monica Carss-Frisk QC.
Mr. MacLean is suing for compensation following the cancellation of the 262 year lease to develop the Hamilton waterfront, which occurred following a vote in Parliament in early 2014.
[Note: Due to legal reasons there are very specific rules about commenting on court stories that are not yet completed, and as such many are not permitted, and most comments will be prone to be deleted. If you are not familiar with the rules, please see the guidelines here.].
Read More About
Category: All, Court Reports, News