[Updated] Michael MacLean — the developer involved involved in both the City Waterfront and the Par-La-Ville project — had made a number of allegations in his second affidavit pertaining to the lawsuit over the Waterfront.
Mr. MacLean is presently involved in two legal matters; he launched legal action over losing the waterfront lease and is also the defendant in legal action over an $18 million loan for the Par-La-Ville development.
Mr MacLean's Allied Development launched legal action over losing the 262-year Waterfront lease, which they signed in late 2012. The RFP process to award the lease was criticised in an Ombudsman's report, and the lease was overturned following a vote in Parliament last year.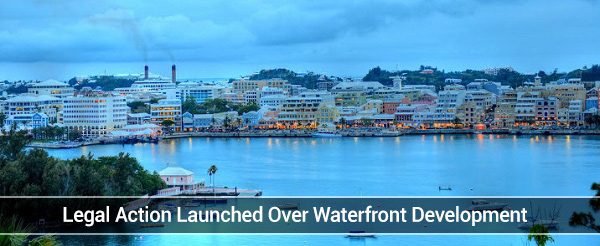 In addition, Mexico Infrastructure Finance [MIF] initiated legal action against Mr MacLean in his capacity with Par-la-Ville Hotel and Residences Ltd over an $18 million loan which was backed by a guarantee by the Corporation of Hamilton [CoH].
The $18 million loan was not paid back, resulting in MIF initiating legal action against both the CoH and Michael MacLean, and the Par-La-Ville car park being placed under receivership in March 2015, with the income from the car park being turned over to pay down the debt.
Mr Maclean's second affidavit — which was filed in the Supreme Court and is dated July 2, 2015 — has been obtained by the press, with the 16-page document containing a number of allegations.
The affidavit begins with Mr. MacLean referencing his first affidavit, and goes on to allege that he was asked to "bribe" certain high ranking political figures millions of dollars in exchange for their support.
He alleges that one political figure wanted the money sent to an account in another island, while another planned to buy a business in the United States.
37-minute video of Mr MacLean speaking in June of last year about the Waterfront contract being voided
He alleges that in discussions "pseudonyms" were used for certain Cabinet Ministers, including "My Boy," "The Joker" and "The Soldier".
The affidavit mentions discussions that allegedly took place via email and Whatsapp, meetings that allegedly took place locally and overseas, alleges that pre-paid cell phones were used and also makes mention of recording conversations.
"I decided it was necessary to whenever I could, tape record conversations…" Mr MacLean said in the affidavit.
"I did this for my own protection, for the protection of my business interests, and to remind me of things which had taken place if ever it was necessary for me to be reminded."
In the affidavit, Mr MacLean said, "This affirmation is made for two further reasons. The first is in opposition to the  Government of Bermuda's current application to strike-out these proceedings on abuse of process grounds.
"The second is to support the joint application of Allied and ADPL for an injunction restraining the government and any other persons from utilising the Hamilton Waterfront without Allied's and ADPL's express consent."
Mr MacLean ends the affidavit by saying, "If the Government of Bermuda's application was acceded to, that would be a tragedy."
In response to the lawsuit, in which Mr MacLean is seeking various remedies including constitutional relief and $90 million compensation, the Attorney-General previously said the "Government views this action very seriously and will be defending it vigorously."
Attempts by Bernews to get comment on this affidavit from various entities have not yet been successful, however we will update as able.
Update 11.28am: At one point in the affidavit, which spans alleged conversations and interactions in 2012, 2013, 2014 and 2015, Mr MacLean mentions the Police. We asked the police for comment on the matter and were told that as there is an "active police investigation" it would not be "prudent" for the BPS to respond.
Read More About