The Bermuda's Girls Youth National Basketball Team returned to Bermuda as the top team at the Keystone Tournament. The girls' squad took in the three day competition that had them compete against teams from New Jersey, New York, and Pennsylvania.
Anna Gilliatt, Inshan-nae Smith, Demiqua Daniels, Siyaunne Hall, Leilanni Nesbeth, Kyrah McRae, Kaylee Lema, Chanara Smith-Rookes, and Alea Whorms made up the nine person roster for the girls team.
On the first day of competition, Bermuda's girls competed against Pope John XXIII [New Jersey] and Mifflin City [Pennsylvania].
Coach Erica Woods had this to say about their results, "The first game against Pope John XXIII saw the girls start off slow, having had two days off from competition. However it wasn't long before Co-captain Anna Gilliatt took charge after opening up with a few easy buckets.
"New comer Leilanni Nesbeth also proved to be a defensive prowess forcing numerous turnovers which saw Bermuda capitalize on countless fast break opportunities. Once the team got started, it took the lead and never looked back. Bermuda won 27-14.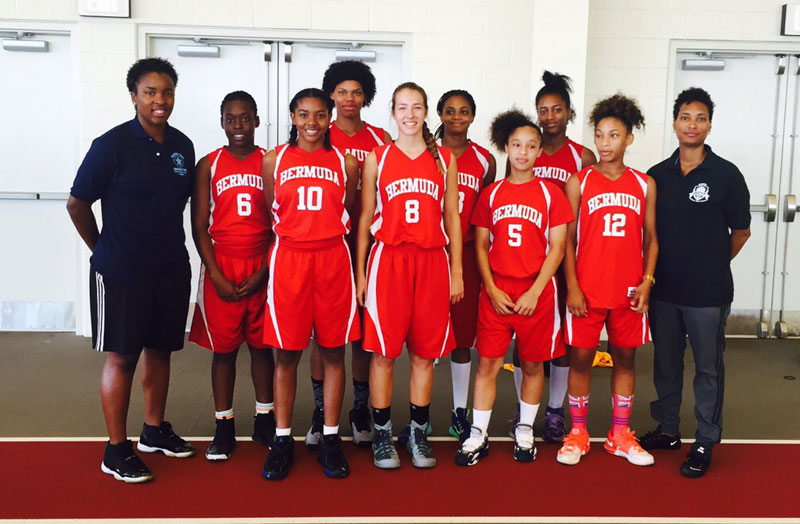 "The second game against Mifflin City saw multiple players get quality minutes as our defensive scheme constantly disrupted the opposing teams offensive game plan. Bermuda jumped out to an early lead headed by veteran Inshan-nae Smith who found the gaps early and was relentless in her attack.
"This propelled the entire team as our veterans stepped up and took control of the game which gave the younger players a boost of confidence. Kaylee Lema and Leilanni Nesbeth stepped up defensively with their on-the-ball defense working together to create turnovers.
"Our post players Chanara Smith-Rookes, Inshan-nae Smith and Alea Whorms grabbed numerous rebounds to secure possession for us. In the end the girls pulled off a 44-28 victory."
"On the second day of competition, the Bermuda Girls played four games against Lake Lehman [PA] [twice], Southern Huntingdon [PA] and Johnson City [NY]. This day saw the girls come away with a clean sweep as the team used a stifling and stingy defense to overpower its opponents on its way to a 4-0 record for the day and a 6-0 record for the event.
"the final day of the contest, a tired girls team was unable to hold off its opponent in an early morning game but still came away with the best record in the event.
Charles Peters, President of the BBYF offered an assessment of the results, "Our girls youth national team is officially on the map. There was a wide array of teams from different US states and the ease with which our girls' team was able to compete with players from their similar age groups proves that our players are ready to take on greater challenges.
"Coaches and scouts from the event gave our ladies a glaring assessment and this is just the beginning. Basketball in Bermuda has been steadily growing since the inception of the BBYF and its member programmes.
"We have now come to a point where players will get improved opportunities for local and overseas development, recruiting, and advancement. As we establish relationships with coaches across the United States and Canada, they have consistently voiced to us a desire to work directly with our national programme on recruiting opportunities.
"In the coming year you will begin to see positive outcomes as a result of these relationships. I would like to thank Coach Erica Woods and Coach Lakeisha Bell a job well done."
Keystone Camps has over 4,000 campers annually for its basketball camps, shoot-outs, and tournaments and has been host to hundreds of college basketball players and coaches. Keystone's notable alumni include players like Tamika Catchings, Tanigha Wright, and numerous other WNBA players.
The BBYF said they would like to "send thanks to our sponsors for supporting our domestic and international programmes – Qatar Re, Argus, Orbis Investment Management Limited, International Financial Planning, Bermuda Cablevision, Mailboxes Unlimited, and all other the private donors who wish to remain anonymous.
"If you would like to support youth basketball in Bermuda or you would like to learn more about how your young player can tryout or join the national team please contact the BBYF at info@bbyfbasketball.org."

Read More About