The 3rd Annual Team Hurricane-Global Squad Invitational Skills Camp was a success and served to confirm that Bermuda hoop talent is on the rise.
Held over the course of three days [April 21 – April 23] at Warwick Academy, Team Hurricane Basketball Academy's Founder and President, Doug Reed, handed the reins to Coach John Alexander who, along with Coaches Kevin Quinlan and Ryan Borzager, challenged players to push past their physical and mental limits.
Day 2 – Defensive stance with Coach Ryan Borzager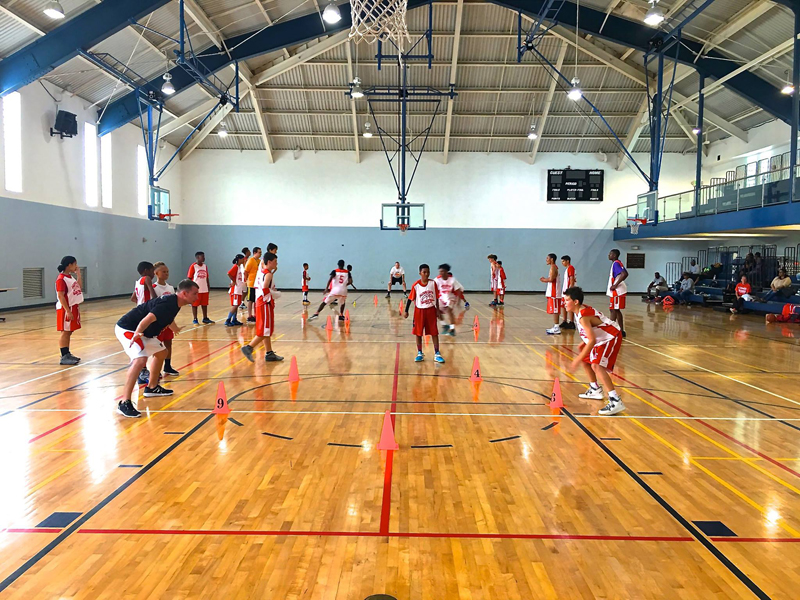 This year's edition of the Team Hurricane-Global Squad Invitational Skills Camp highlighted the significant and continued improvement of Bermuda basketball.
Coach Kevin Quinlan reflected upon the talent and heart of Bermuda's young players, saying: "Our primary objective for the event was to put the Bermudian ballers through U.S.-style high intensity skills and strength training.
John Alexander on first day of training at Warwick Academy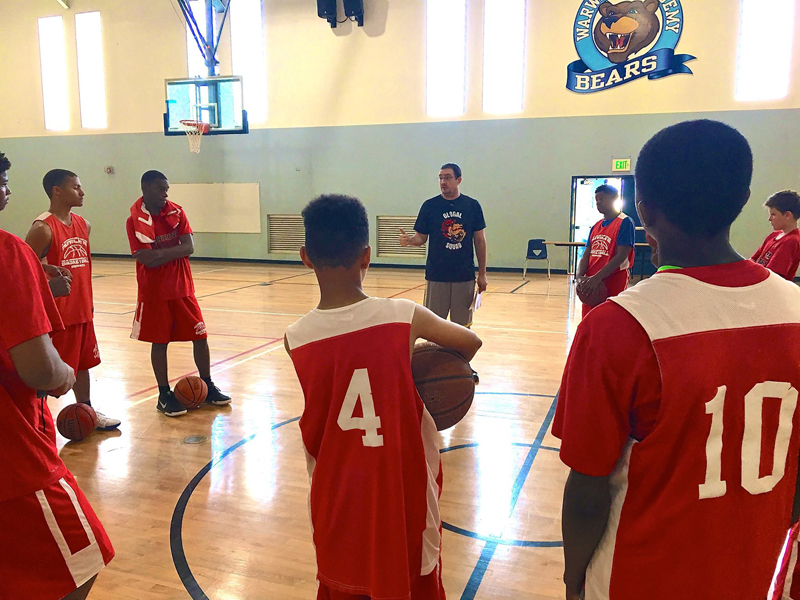 "We led the boys and girls through an array of drills designed to sharpen their ball handling, shooting, and passing; to improve their grasp of a number of important team concepts such as cutting to score; and to develop power and agility.
"Three of the most eagerly received drills were the CP3 Series, the Circle Sprint Series, and Angle Shooting. Three of the most challenging and arguably most beneficial exercises were the Weak Hand Gauntlet, Stationary Ball Handling, and Jump Training.
Day 2 – Christian Liyanage and ballhandling station
Coach Alexander continually stressed several points, which resonated with the athletes and motivated them to work hard to improve their skill sets. These aspects were taking ownership of your game, focusing on the process and not on the results, and keeping things simple.
Coach Alexander on the third day of training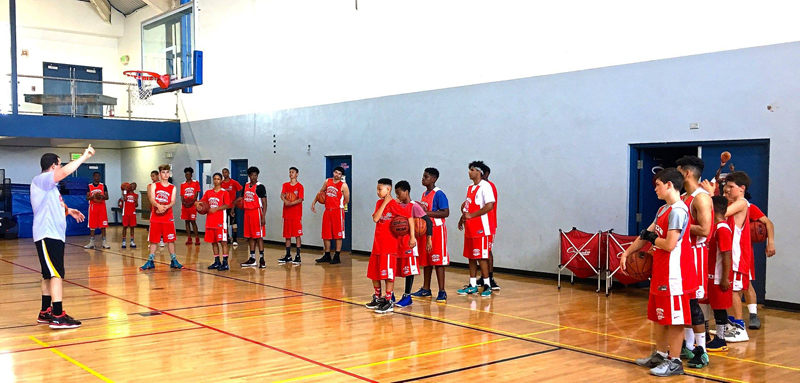 "We look forward to visiting Bermuda for the Team Hurricane-Global Squad Invitational Skills Camp again next April. Please free to reach out to us at abasketballacademy.com with any questions," a spokesperson said.
Day 2 Training

The camp is the product of Team Hurricane Basketball Academy's relationship with John Alexander and his Alexander Basketball Academy, a well-regarded basketball institution experienced in bringing international players to U.S. college coaches.
Head Coach, Doug Reed, is thrilled with the continued success of the Team Hurricane-Global Squad Skills Camp, saying: "Working with the Alexander Basketball Academy has been such an awesome experience because it enables our program to provide an intense training environment for young student-athletes here in Bermuda.
"Furthermore, it has provided opportunities for Team Hurricane players to participate in their summer intensive program for the month of July, and gain experience playing in front of college coaches."
Coach Kevin Quinlan with Team Hurricane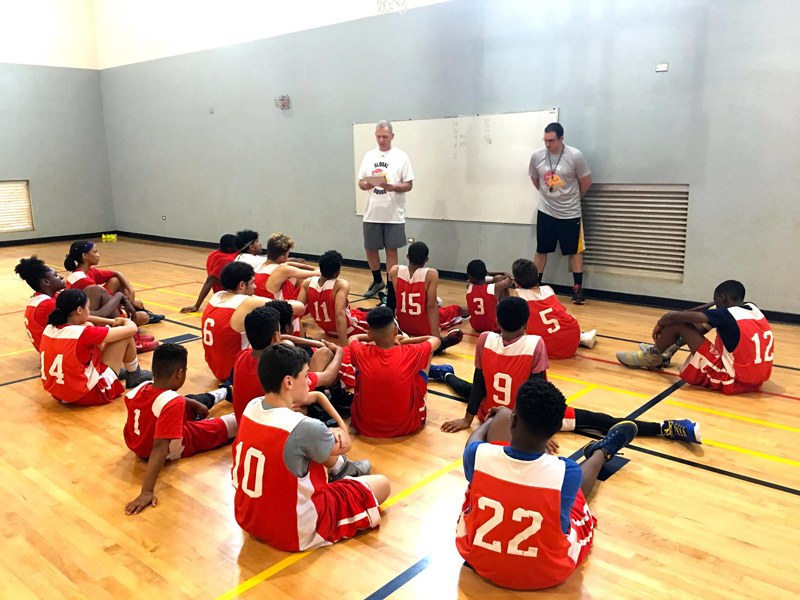 This year's camp was made possible by the generous support of Allied World Assurance and highlighted Team Hurricane Basketball Academy's ability to provide a platform in which student-athletes can train, develop and reach their academic and athletic potential.
Lady Hurricanes at the camp – Kayla Raymond, Daelynn Richards, Kaylee Lema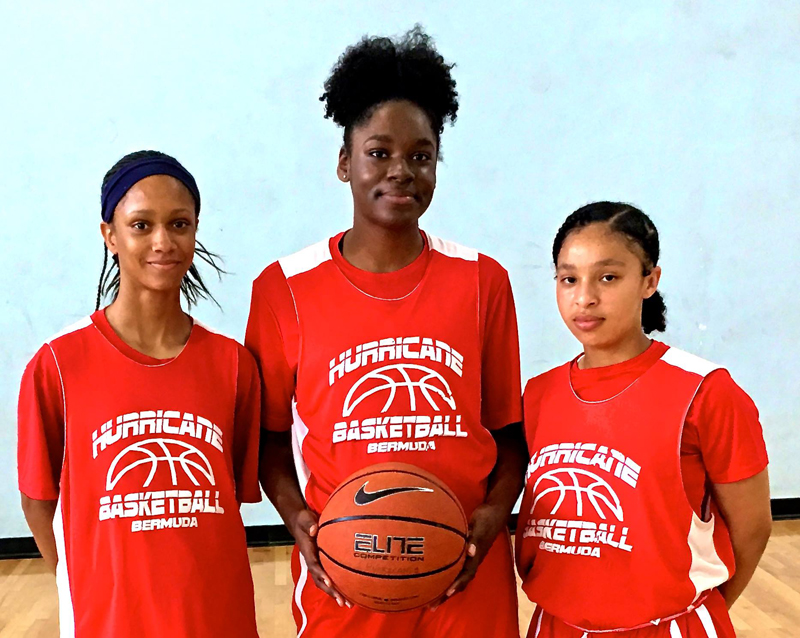 A spokesperson added, "The Team Hurricane-Global Squad Invitational Skills Camp is just one of a number of tremendous, life enriching opportunities that Team Hurricane Basketball Academy provides for its student-athletes and has been made possible by all who have contributed to the success of Team Hurricane Basketball Academy: ABWilson Photography, ACE, Allied World Assurance, Bermuda Community Foundation, Butterfield & Vallis, FIL Limited, Jardine Matheson International Services, KPMG, Orbis, The Peter Cundill Foundation, Tokio Millenium, Zurich Insurance Company, as well as our individual donors. Their gracious support allows Team Hurricane to develop the youth of Bermuda through sports and education."
Final day group shot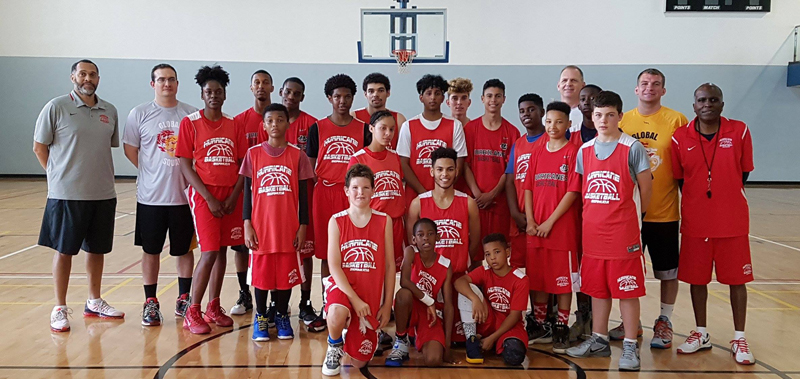 Team Hurricane Basketball Academy is a free youth basketball program for players aged 5 – 21. To enroll your child, please contact Coach Doug Reed at 504 1962, or visit their webpage.

Read More About