The Jamaica Association of Bermuda [JAB] has revealed Ms. Taja'mes Adia Nestajah Branch as the successful recipient of the Hazel Christopher Educational Award [HCEA] for the 2015-2016 academic year.
Ms. Branch is the first beneficiary of the $2,000 USD educational award, instituted by JAB in honour of one of its four founding members, the late Hazel Christopher.
Ms. Branch is a graduate of the Berkeley Institute. She will be attending Dalhousie University in Halifax, Nova Scotia, Canada beginning this fall. Her area of focus will be on the Sciences with the hope of pursuing a career as a Physiotherapist upon her eventual return to Bermuda.
Treasurer of JAB Winston Laylor, Roxanne Christopher, daughter of the late Hazel Christopher, Taja'mes Branch, Orville Campbell, President of JAB, & Emancia Outerbridge, member of the HCEA Committee: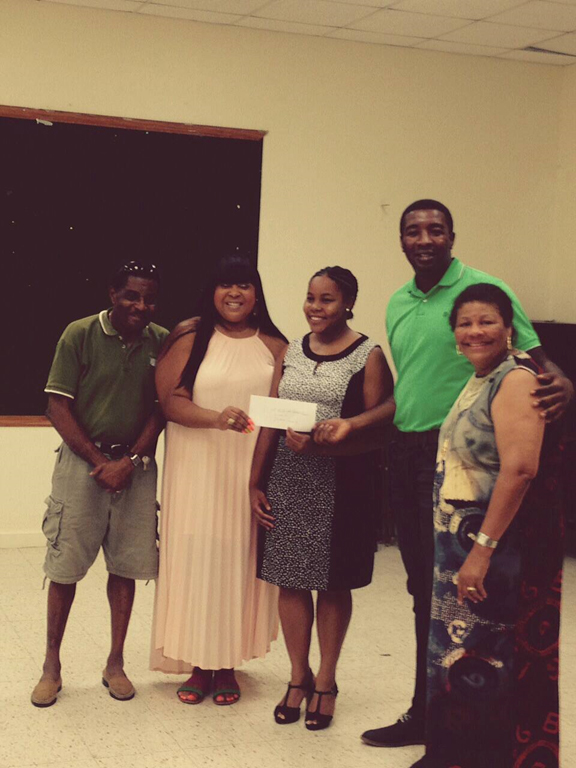 A spokesperson said, "The HCEA was created in 2014 and will be awarded each year to a new recipient living in Bermuda who is of Jamaican lineage and studying at the collegiate level.
"Through the HCEA, the JAB will invest in the life of a worthy recipient who demonstrates a passion for Community Service and for attaining higher education in a given field of their choice.
"The executive team, members of JAB, and the HCEA Trust congratulates Ms. Branch for her hard work invested academically and also in giving service to the community.
"We wish for her continued success in her upcoming studies and career development."

Read More About