An English football fan's visit to Bermuda turned out to be the trip of a lifetime, with a local tour guide helping the gentleman to make contact with one of his sports idols – and when legendary footballer Clyde Best heard one of his fans was on the island, he took the time to meet him personally.
Visitor John Carey — a self-professed fan of West Ham and Clyde Best — was enjoying an island excursion with Byways Tours, lead by Ms. Heidi Cowen.
Along the way, Mr. Carey expressed excitement at the idea of getting a photo of himself standing next to the road sign named after Clyde Best, leading Ms. Cowen to arrange a special surprise.
Noting Mr Carey's enthusiasm for having his photo taken with the Clyde Best road sign, Ms. Cowen decided to call Mr. Best on the phone, surprising Mr. Carey with the opportunity to speak with the footballer.
And then Mr. Best's own hospitality lead him to take the encounter a step further, going to the visitor's hotel in order to meet his personally, spending time with Mr Carey, something which the football fan called a "fantastic" and "brilliant" experience.
Mr. Carey with the road named after Mr Best: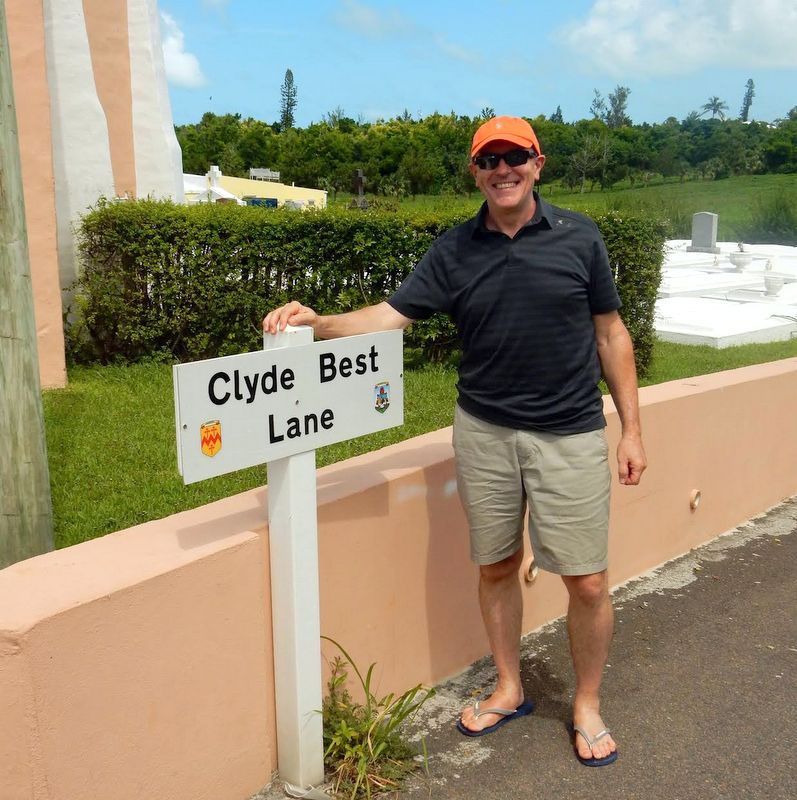 In describing how the events unfolded, Ms. Cowen said, "The one request that John Carey had on the tour was to have his picture taken by a sign – Clyde Best Lane in Somerset.
"He explained to the rest of the bus that he used to watch him play in England for West Ham in the 1970s, had followed his career, and was a huge fan of his."
Ms Cowen said the tour continued Mr Carey continued to talk about Mr Best, prompting her to actually call Mr Best and explain to him that she was a tour guide, had a guest on the bus that was his "biggest fan" and ask if he would speak to him on the phone.
Initially Mr Carey was stunned to actually be given the chance to speak to his football idol, and by time he finished the phone conversation he had a huge smile on his face, and the rest of the tour bus passengers broke into applause.
During the phone conversation, Mr Best arranged to go to Mr Carey's hotel and meet him personally, and following the meeting, Mr. Carey said, "We were able to reminisce about his playing days and had a long conversation about the people he played soccer with and who I idolised. He is such a nice man."
Mr. Carey speaking with Mr. Best on the tour bus:
Upon hearing of the unique meeting, Glenn Jones of the Bermuda Tourism Authority  said, "This really matters because increasingly the BTA is attracting explorers and adventurous like John Carey, the kind of traveler who wants to experience every inch of the island.
"And to know those visitors are going to encounter bend-over-backwards guides like Heidi Cowen and genuinely hospitable people like Mr. Best means Bermuda is offering a vacation experience none of our competitors can match."
"I tip my hat to the two of them and everyone else who does their part to make the Bermuda experience a life milestone for the people who visit us," added Mr Jones.
Mr. Carey and Mr. Best: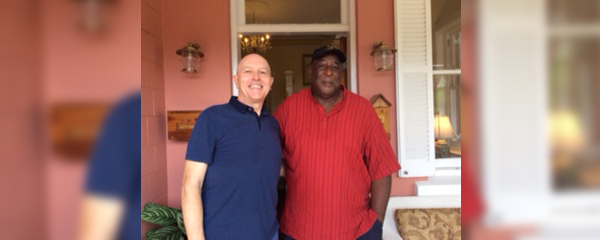 Mr. Best — one of the top athletes that Bermuda has ever produced — arrived in the UK from Bermuda to play for London club West Ham United in 1968, where he was a stand-out player for the professional team.
He played 218 games and registered 58 goals for West Ham over seven seasons between 1969 and 1976, and remains a well-known figure by football fans around the world.
Read More About