News that the Clarien Foundation donated $75,000 to six charities, the Green family awarded scholarships to 11 Bermuda students, and Bermuda's Sentwali Woolridge claimed a gold medal in the Pan American Sanda Cup Championships in Mexico were all some of the positive news stories from the past week.
Other good news stories included Azra Smith and Kejon Sampson winning the Stanley G. Kennedy Architectural Award, the newly renovated Inverurie Executive Suites reopening its doors, and the Gospel Explosion event raising $15,000 for a good cause.
In additional good news, the Give Back Games raised over $66,000 for charity, five local youth athletes were selected attend an elite Digicel NBA basketball camp, two Bermuda trust firms earned industry prizes at the 10th annual STEP Private Client Awards in London, and XL Catlin celebrated its 10th Global Day of Giving.
We also posted various community photo galleries, including coverage of the Running of the Bulls road race, the latest Dudley Eve Football action, Parking Day in Hamilton, and the Bermuda karting season getting underway.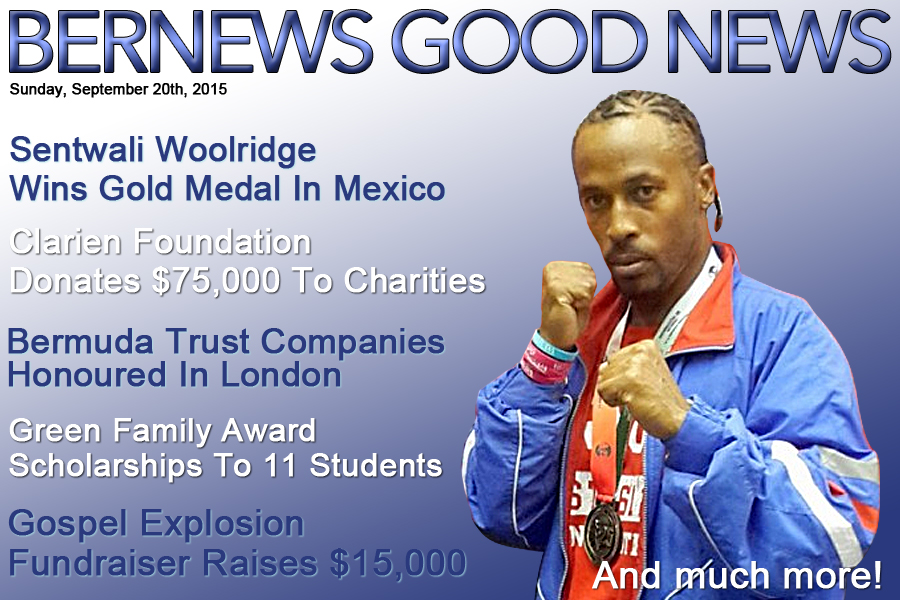 In an effort to highlight some of positive news happening in our community, we supplement our standard morning and evening email newsletters with a special Sunday "Good News" email newsletter edition, which strictly focuses on the positive news from the past week.
You can sign up to have the free newsletter delivered via email here, and/or access the links below. In addition, for those who like positive news, please feel free to visit our sister site ForeverBermuda.com, which seeks to showcase the best of Bermuda as well as provide information and listings for visitor related services.
Links to some of the 'good news' from the past week are below:
Read More About