The discussion around same sex marriage continues, with a new website launching today [Oct 29] in support of it, with samelovebermuda.com saying that "same-sex couples want to marry for all the same reasons as their opposite-sex counterparts" which include "legal security, to publicly celebrate their commitment, to provide greater legal protection for their children, or simply because they are in love."
Screenshot of the website homepage: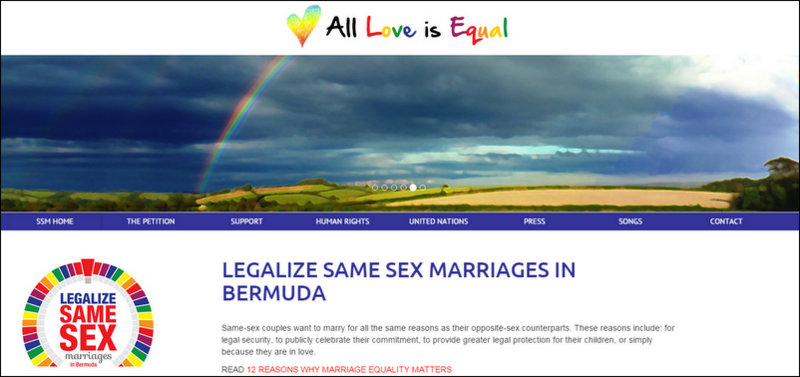 The website was launched by Tony Brannon, who said, "The importance of Human Rights for all is an absolute must. To deny same love to same sex couples who ask to be married cannot continue.
"From the United Nations to the International Organization for Human Rights, it is time for Bermuda to join other nations and do the right thing.
"The website is simple and to the point. I am very proud of my website designer who has contributed her time and love to the fight for equality.
"The fight for civil rights, the fight for same rights for women were all battles for freedom. Sadly some people that fought for rights mentioned above are the very people denying same sex couples their right to marry in Bermuda.
"Sadly, religion is used by some to keep this injustice in place," added Mr Brannon.
The website follows after a petition was started calling for same sex marriage to be legalized, another petition was started opposing same sex marriage, and public information sessions pertaining to same sex marriage were held.
60-minute video of the Q&A portion of the same sex marriage info session last month
In June of this year the U.S. Supreme Court legalised same sex marriage throughout the USA, and according to Time Magazine other countries that have also legalised same sex marriage include the Netherlands [2000], Belgium [2003], Canada [2005] , Spain [2005], South Africa [2006], Norway [2009], Sweden [2009], Argentina [2010], Iceland [2010], Portugal [2010], Denmark [2012], Brazil [2013], England and Wales [2013], France [2013], New Zealand [2013], Uruguay [2013], Luxembourg [2014], Scotland [2014], Finland [signed 2015, effective 2017], and Ireland [2015].
Read More About