In a statement following the passing of Hurricane Joaquin, acting Premier, Minister Bob Richards said that "Bermuda appears to have weathered this storm well," expressing thanks to everyone on the island who worked throughout the storm in order to "ensure the safety of all of us."
Minister Richards said, "Bermuda appears to have weathered this storm well and already we are returning to normal.
"The vast majority of residents remained off the roads and secured their property in good time before the main impact of the hurricane. As early as 1 am this morning, crews from our various agencies were at work preparing main roads for use by the motoring public.
"The main effort at this stage will be the restoration of power, continued road clearance and assessment of various sites to ensure the safety of schools and other buildings.
"As it stands now the LF Wade International Airport has reopened along with most Government Offices. Public bus service has resumed on major routes. Some roadways are being assessed and once given the all clear, it is anticipated that more commuter routes will become available.
"Regular ferry service will resume at 4.10 p.m. However, there is limited service on the Paget/Warwick route."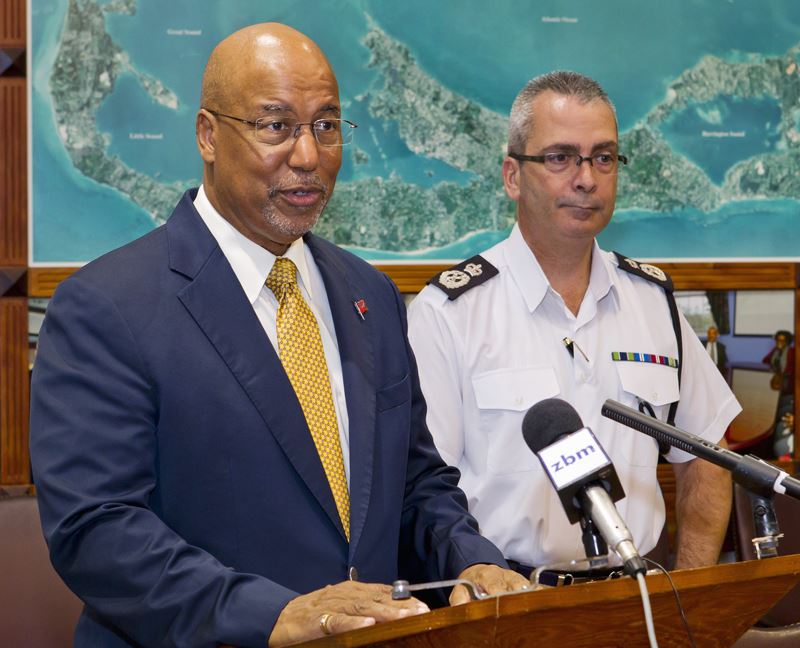 "Garbage collection advisories have been issued as there will be a disruption of service today in the West End. Before I hand over to the Commissioner of Police, let me express my thanks on behalf of the Government and people of Bermuda to those men and women who rode out the storm away from their families so that they could ensure the safety of all of us.
"They continue to do us proud and as the winds subside, we can rest assured that Bermuda will be back to normal shortly. The EMO met at noon today and I am confident that the emergency and security services are attending to priority tasks.
"We should all bring a healthy dose of patience to this clean up period as the work progresses as quickly as possible. We will continue to provide updated information on schools and other aspects of public services.
"There is a tremendous amount of work underway by various agencies, including BELCO, whose crews braved the elements even last night to restore power to some areas.
"Thank you and please continue to stay safe."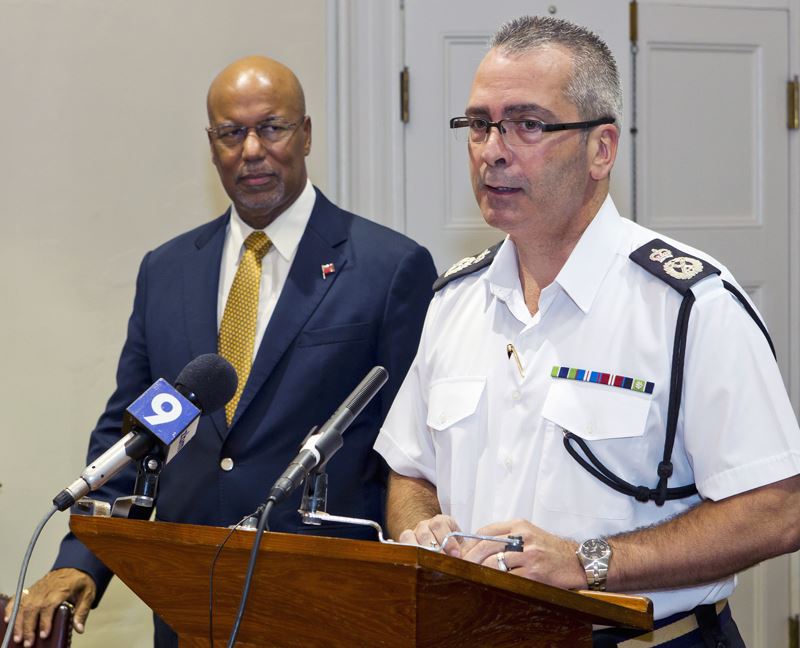 In an accompanying statement, Bermuda Police Service Commissioner Michael DeSilva said, "Road checks commenced at 0100 hours as per BWS forecast of cessation of storm winds.
"Main routes are clear for emergency vehicles from KEMH to Dockyard [West] and Causeway [East] with minor exceptions where passage is limited to single lane. KEMH has been apprised.
"I should note that the lane closure near Blue Hole Hill is for safety and structural reasons. The motoring public can expect this lane closure to be in place for a couple of days to allow for the Works and Engineering crews to undertake the appropriate inspections.
"No major road obstructions reported, save for downed trees/branches throughout the island. RBR deployed from Warwick Camp at 0300 hrs to commence early clearance as a road safety measure. W&E/Parks deployed assets after first light as needed.
"No major incidents reported, save for a pump room fire at a private residence [no injuries and minor damage] and a few BELCO pole fires that ended without major incident. Other than taking out the neighbourhood's electricity.
"No major structural damages reported. Several minor reports of wind related damage."
The best place to view all updates is our live blog here, and you can view all our hurricane coverage here.

Read More About