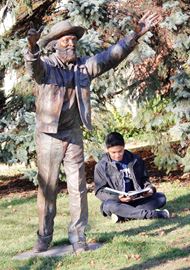 Bermuda's Johnny Barnes is now a fixture at a Canadian school, with the Guelph Collegiate Vocational Institute in Ontario installing a statue of him saying he represents a "welcoming spirit."
The school's newsletter said the statue was commissioned by the Keenan family, who are residents of Toronto, with the family getting to know Mr Barnes as they frequently travelled to Bermuda.
They became enthralled with Mr Barnes and eventually placed a statue of him on their property in Caledon.
Mr Pat Keenan recently passed away, and his wife Barb Keenan donated the statue to GCVI.
School principal Julie Prendergast said, "Although Johnny Barnes is not a graduate of GCVI, or a resident of Guelph or Canada for that matter, he does represent the welcoming spirit that we pride ourselves on.
"In addition, Johnny Barnes represents diversity. This aligns with and compliments out beliefs as a school.
"GCVI strives to embed international mindedness, including global awareness and respect for diversity, into the collective school culture."
When the statue was put up, it attracted a lot of attention, the Principal told the Guelph Tribune.
"People wanted to take pictures. They were saying 'Who is this guy? What does he represent," said Ms Prendergast. "The kids love it. A lot of them have been taking their selfies with it."
- Photo via the Guelph Tribune
Read More About