A local artisan who made a limited number of dolls in the likeness of Bermuda's Johnny Barnes for the Christmas season recently presented Mr. Barnes himself with one of the dolls, and said that he was "thrilled with his action figure."
Mr. Barnes, who turned 92-years-old in June, is an island fixture, greeting commuters as they pass him with a smile and wave on a daily basis.
Tricia Walters, the artist who made the doll, said, "Last year I made a limited number of dolls for Christmas. I sold about 5. They were a hit with locals more than visitors so I put them on a backburner for this year.
"But I decided to make one for the man himself as a thank you and this morning stopped at the circle to spend some time with him."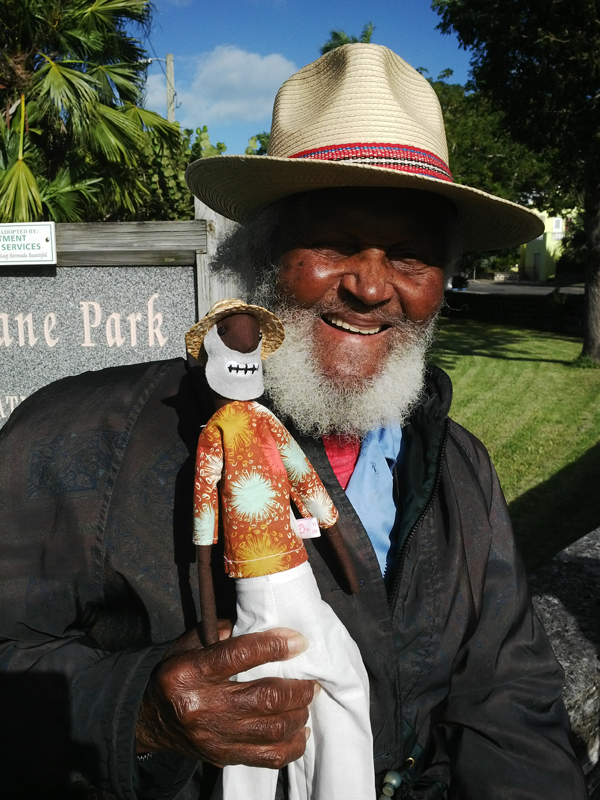 "He was thrilled with his action figure, saying 'I feel like crying. We chatted for a bit and then I left; overall, he was thrilled to have a likeness of himself and says he never expected anyone to make a toy of him."
Having a doll made in his image is only one part of the recognition that Mr. Barnes has received this year, with a New York-based filmmaker releasing a short documentary earlier in 2015 that explores the positive effect that the local greeter has on the island's children, with the film showing at the Bermuda Film Festival.
Director Rosanne Ma called the film, titled Welcoming Arms, "a love letter to Bermuda about the effect of Johnny Barnes on the island's children."
Read More About