The Chamber of Commerce is set to host a discussion of achieving retirement in Bermuda on Tuesday,  November 24th.
Moderator for the session, Nathan Kowalski, is Co-Chair of the Bermuda Chamber of Commerce Economics Committee states, "This is a timely and relevant topic. We have just heard that the senior population in Bermuda will outpace the 'millennial' population by 2017.
"This puts even more strain on the social insurance as there are less persons contributing to it. Those of working age now should be concerned if their pension will be available to them at retirement."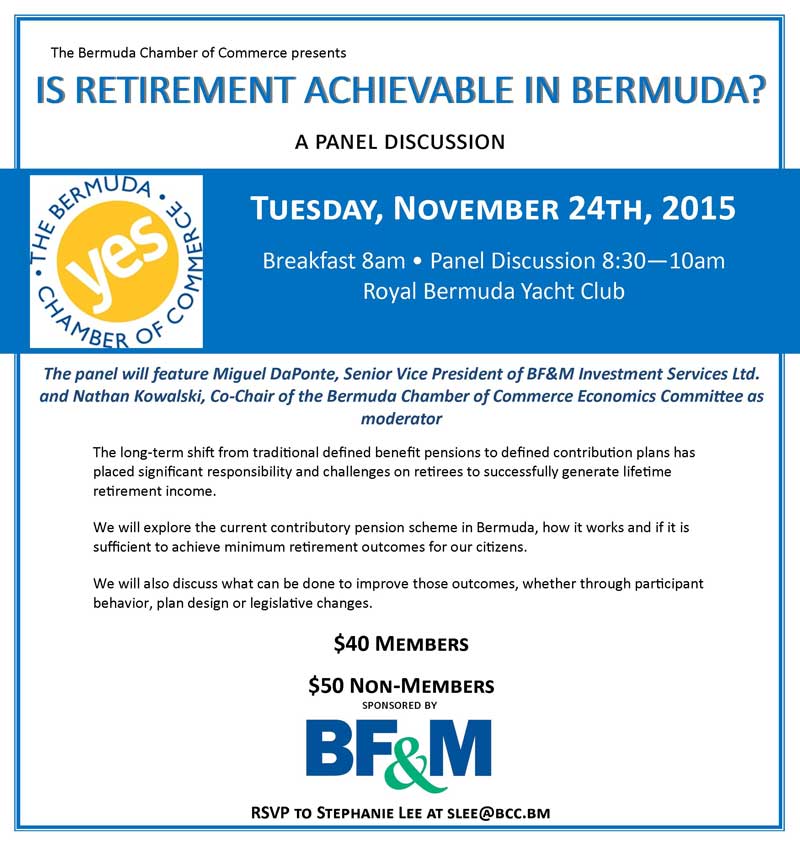 Mr. DaPonte highlights, "In this breakfast session, we will explore the current contributory pension scheme in Bermuda how it works and if it is sufficient to achieve minimum retirement outcomes for our citizens.
"We will also discuss what can be done to improve those outcomes whether through participant behavior, plan design or legislative changes."
The breakfast panel will take place on Tuesday, November 24th at Royal Bermuda Yacht Club, 15 Point Pleasant Road, Hamilton. Doors will open from 8am with the session beginning at 8:30am.
The cost is $40 for members of the Chamber, $50 for non-members. Those wishing to attend should contact Stephanie Lee at slee@bcc.bm; or call the Chamber on 295 4201.
Read More About