Bermuda's James Stout retained his Rackets World Champion title by beating world number 2, Will Hopton 1-0 at the Queen's Club in London this afternoon [Nov 28].
Having beaten Hopton 4-0 in the best of seven first leg in Philadelphia last weekend, Stout needed to win only one game in this encounter to claim the title.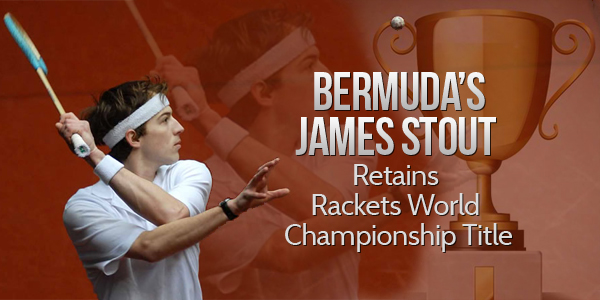 Stout started well serving two aces and winning the next rally for a 3-0 lead. Hopton won service on an unforced error by Stout, and recovered to 2-3, before Stout regained service.
The champion began to control the rallies and move Hopton around the court, volleying at every opportunity. In this fashion he advanced to 7-2 up, until an error gave Hopton service.
Hopton won another point after a double-hit by Stout, but in the next rally a superb backhand winner from the front of the court gave Stout service again.
Stout resumed his attacking play. He served an ace at 8-3, and took the score to 11-3 on calm, unruffled play while controlling the rallies. A good length shot by Hopton at 11-3 heralded four service changes at that score until Stout hit a great shot to take the score to 12-3.
Good attacking play by Hopton enabled him to regain service, and an unexpected short shot then took Hopton to 4-12. At this stage Hopton was attacking more, hitting the ball more powerfully and posing a greater threat.
Two hour video of today's match
Although he reached 6-13, it was a case of too little too late, and at his second attempt at 14-6 Stout served an ace to close out the game in 20 minutes. Stout claimed the world title with an aggregate score of five games to nil over the two legs.
This was Stout's second defense of the world title he won in 2008. He is only the 26th world champion since the inaugural championship was contested in 1820. Stout is the Head Racquets Professional at the Racquet and Tennis Club, New York.

Read More About