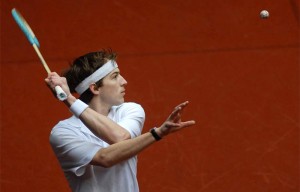 Bermuda's James Stout won the first leg of the Rackets World Championship over Will Hopton, at the Racquet Club of Philadelphia, on Saturday afternoon.
Stout, the World Rackets Champion since 2008, defeated the world number 2, by four games to nil in the best of seven match. This was his first title defense since beating Alex Titchener-Barrett 5-1 in the 2010 challenge.
The game scores were 15-7 [24 mins.], 15-9 [25 mins.], 15-3 [14 mins.] and 15-5 [15 mins.]. The games followed the same pattern, with Stout establishing an early lead which Hopton struggled to overcome in the middle and later stages of the game.
In general Stout was in control throughout the match. In a see-saw first game Stout pulled away from an 8-4 lead to go 11-5 ahead, only to see Hopton recover to 7-11. From that point though Stout closed out the match dropping service only once, and without the loss of any more points.
In the second game Stout went 4-0 up, thanks largely to three service aces. Hopton came back to 3-4 down, before Stout took control and went 11-4 up. Hopton came back, and in one of the more evenly-matched phases of the game recovered to 9-11. Stout won back service and resumed his control of the game, dominating the rallies with his attacking volleys, and closed out the game without any further loss of service, 15-9, in 25 minutes.
The third game was tied 2-2 when Stout began to up the pace by volleying and generally taking the ball earlier. From 2-2, Stout advanced to 9-2 before Hopton regained service and won another  point. Stout served out the third game from 9-3 up to win it 15-3 in only 14 minutes. At this stage of the match the writing was on the wall.
Stout volleyed a lot in the fourth game and Hopton struggled to keep up with the pace. Stout lost service at 12-3, and Hopton took advantage of the opportunity to add a couple of points to the score line. Stout regained service, and although Hopton won service back three times before the end of the game, only Stout scored any further points, wrapping up the game 15-5 in 18 minutes.
The second leg of the World Championship will be played at Queen's Club, London, next Saturday. The match will be another best of seven games. Stout needs to win only one game to retain his World Champion title.
Stout is based at the Racquet and Tennis Club, Manhattan.

Read More About