News that Bermuda College nursing students will benefit from a partnership with Lahey Hospital & Medical Center, four Bermuda boccia athletes will compete in Columbia, and three local girls cut their hair for kids with cancer were all some of the positive news stories from the past week.
Other good news stories included  Marco Warren scoring in a Flagler College Victory, school students raising more than $4,500 for breast cancer, World Olympians Association Treasurer Patrick Singleton being re-elected to his post, young cricketer Leilanni Nesbeth was selected to play with Sussex in the UK and the City of Hamilton donated $2,500 to CADA's 'Let Us Drive' programme, .
We also posted various community photo galleries, including coverage of First and Premier Division football action, field hockey action, the Art Walk event and fashion show, the Cricket Awards Ceremony, ACE's Global Day of Service, the City Art Festival in Hamilton, the Bermuda Kennel Club Dog Show, the 'Pick Your Own Pumpkins' event, and MSA's Halloween Parade.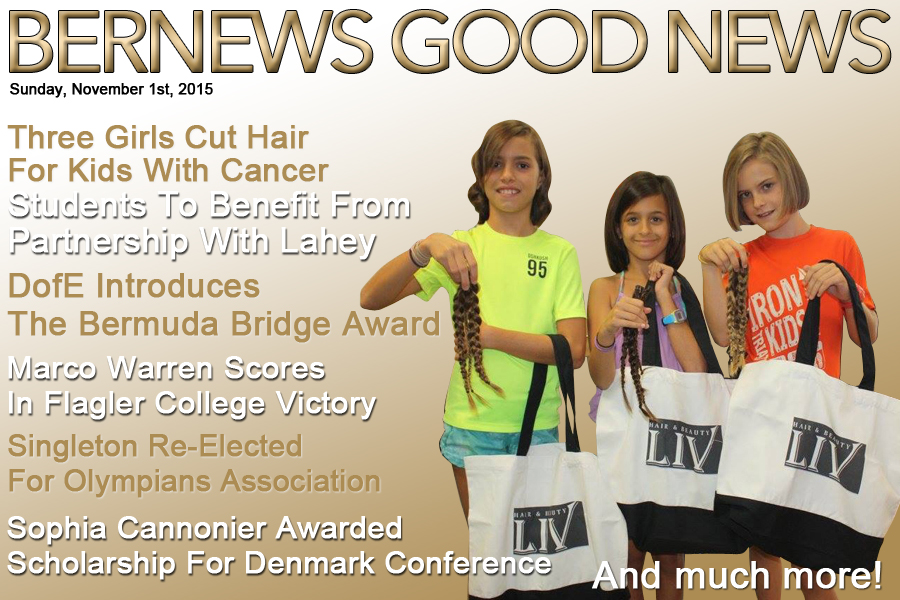 In an effort to highlight some of positive news happening in our community, we supplement our standard morning and evening email newsletters with a special Sunday "Good News" email newsletter edition, which strictly focuses on the positive news from the past week.
You can sign up to have the free newsletter delivered via email here, and/or access the links below. In addition, for those who like positive news, please feel free to visit our sister site ForeverBermuda.com, which seeks to showcase the best of Bermuda as well as provide information and listings for visitor related services.
Links to some of the 'good news' from the past week are below:
Read More About