[Updated] The question of whether you would you like to see an end to party politics in Bermuda is the topic of this week's 24 hour poll, with readers asked to cast a vote on their preference.
Bermuda's political system operates with party politics and, while many countries and territories have a similar system, not all do.
For example, the Falklands Islands — which is also a British Overseas Territory like Bermuda however has a far smaller population than us — does not have political parties.
The Falklands official government website describes the system by saying: "All members are elected as independents, as there are no political parties. There is no formal opposition."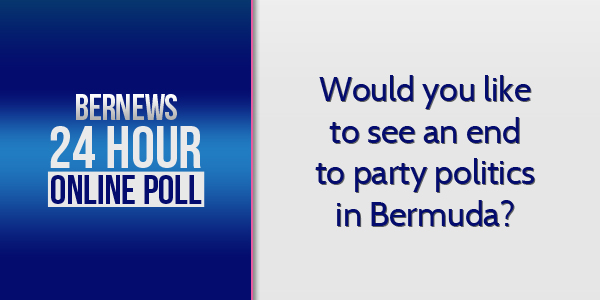 According to the London School of Economics U.S Centre, "Advocates of nonpartisan elections argue that they allow the officeholder to be accountable to the people, and not to the political party responsible for nominating him/her to the office.
"On the flip side, opponents of nonpartisan elections counter that providing the partisan affiliation of the candidates provides an important informational cue to the voters, and depriving voters of this information is making it more difficult for them to participate and participate meaningfully in elections."
The Bermuda Parliament website describes our system by saying, "The Bermuda Legislature is a bicameral legislature based on the Westminster system. Bermuda's Parliament, has two chambers: the House of Assembly [the 'Lower House' of elected members] and the Senate [the 'Upper House' of appointed members].
"This system relies heavily upon the existence of organised political parties, each laying policies before the electorate for approval.
"The party that wins the most seats at a general election, or who has the support of a majority of members in the House of Assembly, forms the Government. In accordance with the Bermuda Constitution, the leader of the majority party is asked by the Governor to form a Government [i.e. a Cabinet]."

Would you like to see an end to party politics in Bermuda?
Yes (74%, 1,389 Votes)
No (22%, 407 Votes)
None Of The Above (4%, 90 Votes)
Total Voters: 1,880

Loading ...

The poll — which is completely unscientific and should be taken as such — will close in 24 hours, as of 9am on Tuesday, and we will then post the results.
The question above was suggested by a reader, and if would like to suggest a question for next week's poll please feel free to leave a comment below or send us an email!
Update Jan 5, 9.25am: The poll has closed, and the results are below: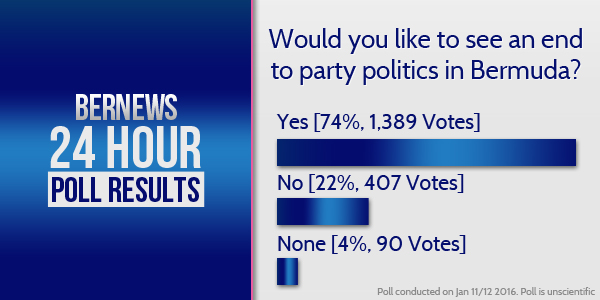 Read More About